Written By Kevin Langton & John Storkamp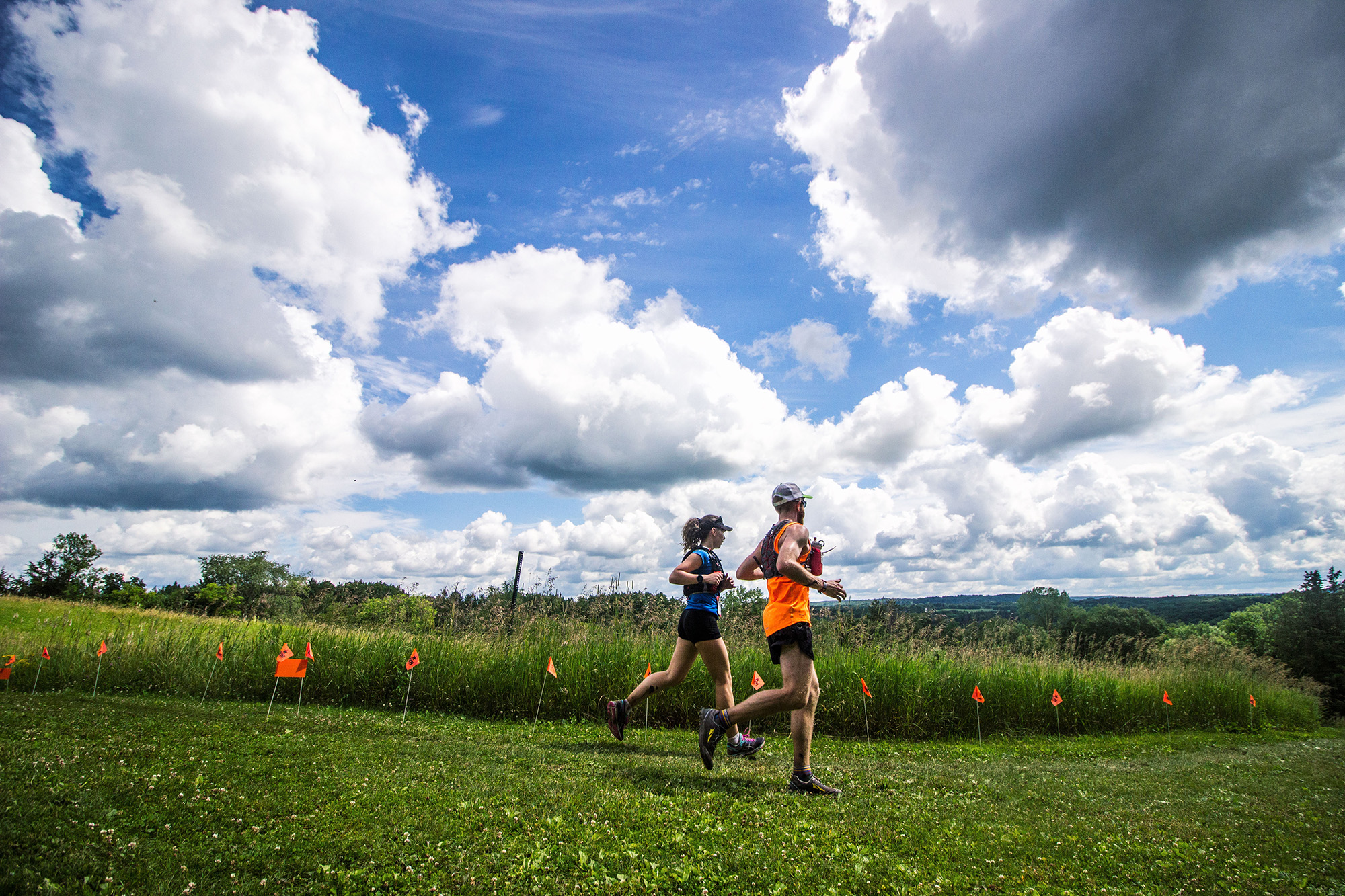 Stride for Stride at the Afton Trail Run – Photo Credit Fresh Tracks Media
Welcome to the 26th Annual Afton Trail Run, the traditional Minnesota 4th of July Weekend gathering of trail running, our own little greater Minnesota get together. And is there anything more Minnesotan than Afton? Heat, bugs, water, dogs, lots of laughter, grilling, tradition, maybe some nausea and the sweet smell of sweat will most likely greet us all. I'm so excited, and I hope you are too. With 975 registered runners (the race sold out again, three weeks before the start), you might be surprised to know it's one of the biggest trail races in the country, and that's because it doesn't feel huge—it still retains that small town feel with wide trails, familiar faces, and yes, the picnic afterward. With that many runners, you should know that the race has donated over $60,000 to Afton State Park, as well as hundreds of volunteer hours every year for trail work and invasive species removal (now that's Minnesotan!).
Speaking of volunteers, there's just over 200 of them registered to help out. That's another big tradition with this race. You'll see plenty of familiar faces at the aid stations and finish line (as well as parking lot attendees, at packet pickup, or wandering the trail doing race photography—you get the idea). That's another Minnesota thing—tradition and volunteering. And if we're talking about Northern trail running, we're pretty proud of our efforts to build and maintain trails, and to take care of each other, something you always see plenty of at Afton.
Before we dig in and see who's running, an important announcement. The parking situation is a bit different for this years race, the overflow parking is in a different location, with shuttles running the approximate 2 miles back and forth to the race start/finish. Please read more here if you haven't: https://www.aftontrailrun.com/2019-afton-trail-run-parking-plan-all-runners-must-read/ The most important things you need to know are to please carpool and give yourself plenty of time. We thank you for your understanding and for taking the time to plan accordingly. Our collective flexibility and graciousness as a community is what allows us the privilege of being able to host this race at Afton State Park. Big thanks to both Afton Alps and to Afton State Park for being such great hosts.
Let's jump in and take a look at what to expect.
50KM / 25KM COMBINED:
977 registered runners, 560 men (57%) and 417 women 417 (43%), 180 Minnesota cities represented 180, 30 states, 5 countries (Canada, China, Japan, Mexico, United States). Youngest runner is 8-year-old Lillian Hopkins, and the oldest is a group of 75 year olds: Herb Byun, Les Martisko, Paul Jensen. Average age of participants is 41.
Between the two distances, we have eight runners over the age of 70. Lillian Hopkins (age 8) is running with her dad, Scott—Scott and Missy are multi-year Afton Trail Run volunteers. Becca Hadtrath is running with her dad, Eric—Eric has been volunteering with us as a photographer and on major trail work projects for some time. It's so cool to see this tradition continuing to be handed down through generations.
50KM:
Registered 339, Men 234 (69%), Women 105 (31%), States 23, Countries 4 (Canada, China, Mexico, United States), Youngest 16: Patrick Flo, Oldest 75: Herb Byun, Les Martisko, Paul Jensen, Average age of participants is 41. Runners with one or more finishes 136 (40%), first time (or no previous finish) 203 (60%)
The Afton 50K always attracts a super strong field but it is unlikely that anyone this year—or maybe even in future years—can lower Justin Grunewald's Course Record of 3:30:14 (set in 2018), though we'd love to see them try. Divide by 31, and that's a sick 6:47 per mile (sub 3hr marathon pace). Justin and his family have been in the entire Minnesota running community's thoughts and prayers with the recent passing of his wife Gabe, a Minnesota running icon who inspired so many throughout her long battle with cancer. If we can run with a fraction of the strength, dignity and bravery that Gabe possessed throughout her fight, we should all have a great day. Let's hold Gabe in our thoughts throughout race day. Justin is registered for this year's 25K race, and if he is with us we welcome him with big open arms—and if he is not, we totally understand and hope to have him back with us in the future.
Michael Borst of Trail Transformation, albeit young, is the guy with experience and his experience has included a lot of winning and a lot of course records. He holds the third fastest time ever run on the 50KM course at 3:42:35 (set in 2013 when he was just 20 years old). Matthew Eidenschink is coming off a solid second place at this year's Superior 50K in May and is no stranger to winning, while Ben Drexler was second at this year's Chippewa 50K in April – Ben put in a monster day volunteering on the trails with us so we know he will have some good karma on his side. You know these guys will be running for first at Afton. Of the top 10 ranked runners (by UltraSignup), the algorithm tells us Ben Schneider is the guy to beat (ranked 1) and if you know Ben, it would be hard to argue against it. For those UltraSignup aficionados, it could be easy to dismiss as his ranking is based on only one result (albeit, a solid Afton 25K good for third place in 2018) but Ben is a well-known long-time super-speedy marathoner (normally running in the 2:30's) who excels on hot, hilly, hard marathon courses, often taking the win on these challenging courses. Afton, is extra-challenging so let's see what he can do in the 50K. Shawn Bubany looks to be a strong candidate for the master's title, but is no stranger to first, second or third overall and could certainly do so here. This whole men's 50K field actually runs so much deeper than this, but we've got to move on.
Deborah Hudleston was runner-up last year, and her margin to first (Afton Trail Run legend Eve Rukavina-Rembleski) was not huge—armed with experience she will be the one with the target on her back. If someone were to write an article about Angie Darbyson (and they probably have) the title might be "Angie Darbyson Wins Stuff" and by stuff, they would mean trail races. Looking through her results you can sometimes find a second or third sprinkled in with the firsts, but it is mostly firsts. Laura Edlund Miller won Chester Woods 50K (Rochester, MN) in 2018 but we don't see any trail / ultra results since—maybe it has all been training for this year's ATR50K. Our friend and oft RSR course marker Lisa Dunnigan has placed second, fourth, and fifth at the Afton 50K, so we expect her to run well—on her training but also on her trail karma. Candice Schneider placed tenth at the Afton 25K last year and is bumping up to the 50K this year where we expect her to shine, she like husband Ben mentioned above has been known to win on the hot and hilly marathon courses.
At the age of 75, Herb Byun is looking for his 17th finish of the Afton 50K. Incredibly, Herb place 192nd out of 252 runners at last year's race with a time of 7:08:05. Two other 75 year olds are in the 50K, Les Martisko looking for his 16th finish and Paul Jensen returning from Texas heat, ready for the Minnesota July heat for his second Afton 50K. Herb Byun, Joseph Galloway and Michael Scandrett are tied for the most finishes at the Afton 50K with 16—Herb and Joseph are both racing, but Michael is not this year. Our oldest female competitor in the 50K is 63, Sally Hulbert of Litchfield Minnesota.
25KM:
Registered: 638, Men 326 (51%), Women 312 (49%), States 24, Countries 3 (Canada, Japan, United States), Youngest: 8 Lillian Hopkins, Oldest: 73 Thomas Burr, Wally Goettl, Average age of participants is 41, Runners with one or more finishes 281 (44%), first time (or no previous finish) 357 (56%)
Both the women's and men's field for the 25K is silly stacked. Let's jump in.
Women's 25K & USATF Minnesota Trail Championship Race: Erica Schramm from Las Vegas NV has placed first, third (twice), fourth, fifth and thirteenth, she holds the 25K Masters course record —she has course experience, loves Afton and she's back–Vegas odds say she will be in the hunt. Cassie Pratt won the Superior 25K in 2018, was third at the Afton 25K in 2017 and won the Hixon 50K in 2016, look out for her. Margaret Ho won the 2018 Hixon 50K and has a Voyageur 50 Mile second place podium spot to her credit—that is big time. Lauren Mitchell was third at last year's Afton 50K and is no stranger to the top step of the podium at the races she has run, but some insider info leads us to believe she might be taking this one as an easier training run.
Men's 25K & USATF Minnesota Trail Championship Race: Justin Grunewald ran the fastest time ever run on the modern day Afton 50K course last year—the time / effort is in the range of what we believe the world's top / pro trail racers would have run on the course on a comparable day—we are not sure if Justin will be toeing the line (see above) but he has our unyielding support if he does, or if he doesn't. Last year's 25K champ Ryan Becker from Boulder, Colorado is back. Ryan had a good race last year, and in 2016 ran the eighth fastest time on the course. Eighth fastest you say? For those that know anything about the Afton 25K that means something as every one of the top 15 times were run by national-class competitors, several of whom ran professionally at some point in their careers. Ryan is surrounded by big-time trail runners at this one—good thing he is a big-time trail runner.  44 year old Olivier Vrambout was second to Ryan last year, en-route he broke the Masters course record, running 1:42:28, finishing less than a minute and a half behind Ryan.  Nathan Swenson has been on fire, he ended his year last year with a Surf the Murph 25K win. This year he has already won the Trail Mix 25K, Chippewa 10K, Superior 25K and the Chester Woods 10 Mile—he was off the pace a bit at last year's Afton 25K running 1:51 for eighth place but comes into this year's race with some great wins and great form. The accomplished OCR racer Mike Ferguson possesses a punch / fast-twitch ability that many of his trail-racing counterparts do not—when running he just looks fast and his results prove it, we are excited to have him running the Afton 25K. Adam Condit has some big trail racing chops and over the last few years has excelled at longer races (top 50 at Western States)—comparing local course knowledge, his 2016 Hixon 50K win in the low 4:00 range and his May 2019 Eau Claire Marathon win in 2:40 hints at the speed he may be able to bring to the Afton 25K.
We have been mentioning it each year the last few, but we love that Bennett Henderson, who is only 29, is going for his 13th Afton 25K finish. We don't know for sure, but we hope he is aiming to be the first to 50 finishes! Longtime Afton Trail Run volunteer Tom Burr, along with Wally Goettl, represent our over 70 runners in the 25K, both at 73 – Tom has been at all 26 races as a founder, runner or volunteer over the years. Our oldest women's competitor is 63, Terri Tsamasfyros from Edwards Colorado.