Aid Stations, Maps and Data
Below are course maps, elevation profiles, driving directions and more. Please be sure to review and print all items that you think you might need as we do not provide hard copies of these maps.
General Information About the Area and the Race:
The Afton Trail Run is one of the most challenging and beautiful trail races anywhere.  The race was established in 1994 and is now one of the oldest, largest and most competitive trail races in the country and routinely draws runners from all 50 states and beyond.  The race takes place entirely within the borders of Afton State Park.  The race(s) consist of a hilly 25K loop (two loops for the 50K), winding through the state park's trail system. The race is held 100% off road, primarily on very runnable / not very technical single double and single track. There are 7 long climbs per loop, rising from the river valley and down again with a good mix of rolling and flat terrain between the hills.   Afton State Park lies on a glacial moraine, scribed with deep ravines running down to the St. Croix River.  The 169 mile St. Croix River was one of the original eight United States rivers to have significant portions placed under protection by the National Wild and Scenic Rivers Act of 1968.  Within the park sandstone outcrops have been exposed in some of the ravines. The vertical drop from the blufftop to the water is 300 feet.  A few patches of remnant prairie survived the decades of farming that took place on the blufftop. Today the former fields are being restored to prairie and oak savanna. The ravines leading down to the riverbank are thickly wooded with oak, aspen, birch, and cherry.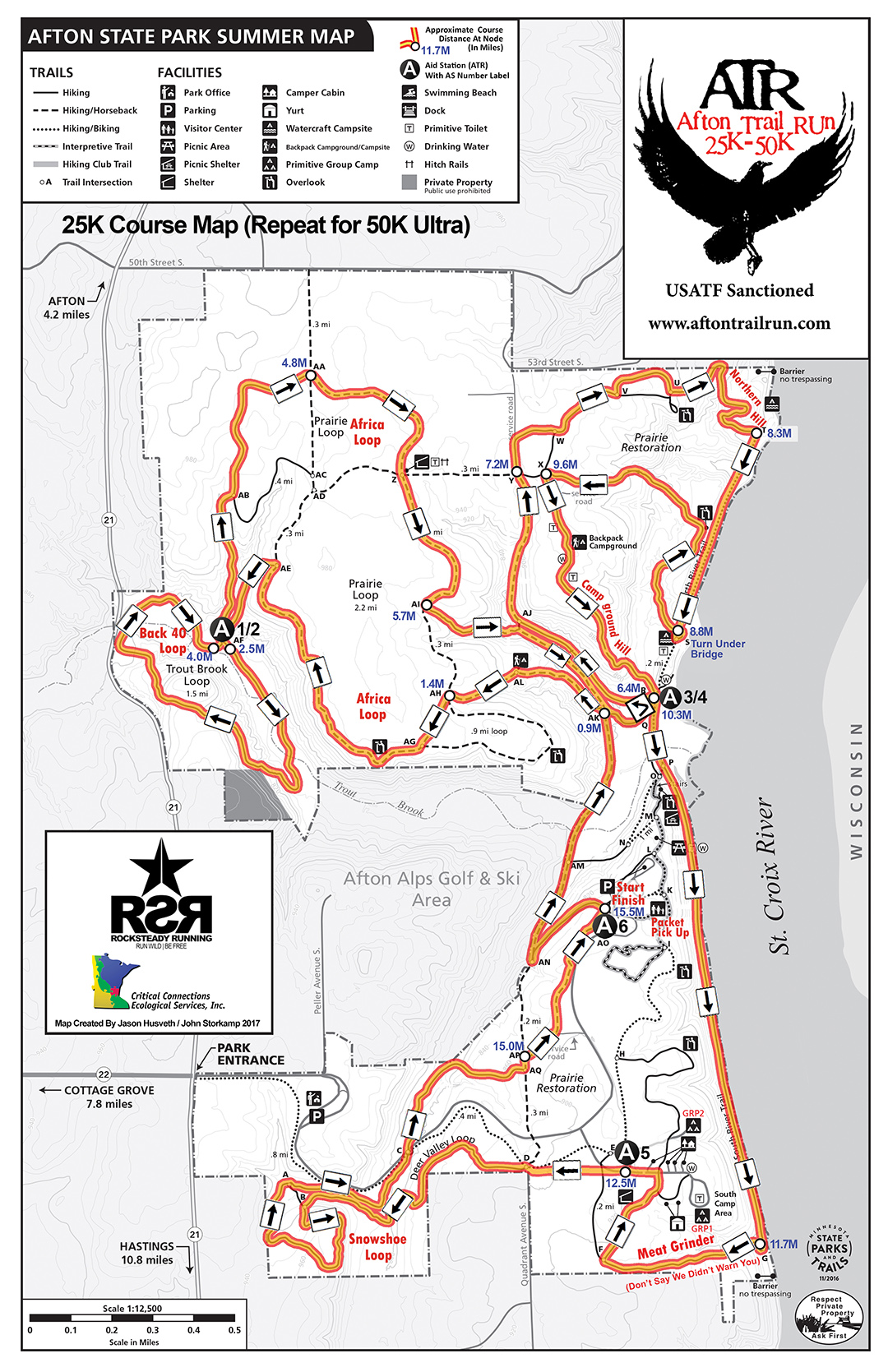 50KM:
2 x 15.5 mile loops =  31 miles
Elevation Gain 4,670 FT
Elevation Loss 4,670 FT
NET Elevation Change 9,340 FT
11 Aid Stations
9 hour time limit
Complete 50KM Info HERE
25KM:
1 x 15.5 mile loop = 15.5 miles
Elevation Gain 2,335 FT
Elevation Loss 2,335 FT
NET Elevation Change 4,670 FT
5 Aid Stations
8 hour time limit
Complete 25KM Info HERE
Directions to Race Start:
Afton State Park
6959 Peller Avenue South
Hastings, MN 55033
Hastings, Minnesota
Google Maps Directions HERE
Approx 25 minutes East of St. Paul, MN and 40 minutes East of Minneapolis, MN
IMPORTANT!  There will no longer be parking allowed on the side of the road within Afton State Park.  Parking must be in designated spaces only.  Additionally, a block of spaces within the park will be saved for non-race-related park users.  Parking within Afton State Park will be on a "first come, first serve" basis.  Once all of the parking spots allotted for the trail run within Afton State Park have been taken, racers will be directed by a flagger to enter Afton Alps Ski Area via Peller Ave South.  You will follow signage to park in the Afton Alps Meadow Chalet parking lot which is at the very end of the road.  After you park, additional signage will direct you to walk 1/3 of a mile up to Packet Pickup and the Start / Finish Area.
* Be sure to allow for plenty of extra time to park and walk to the start of the race!
Google Maps Directions:
https://goo.gl/maps/EKNdRcrRovR2