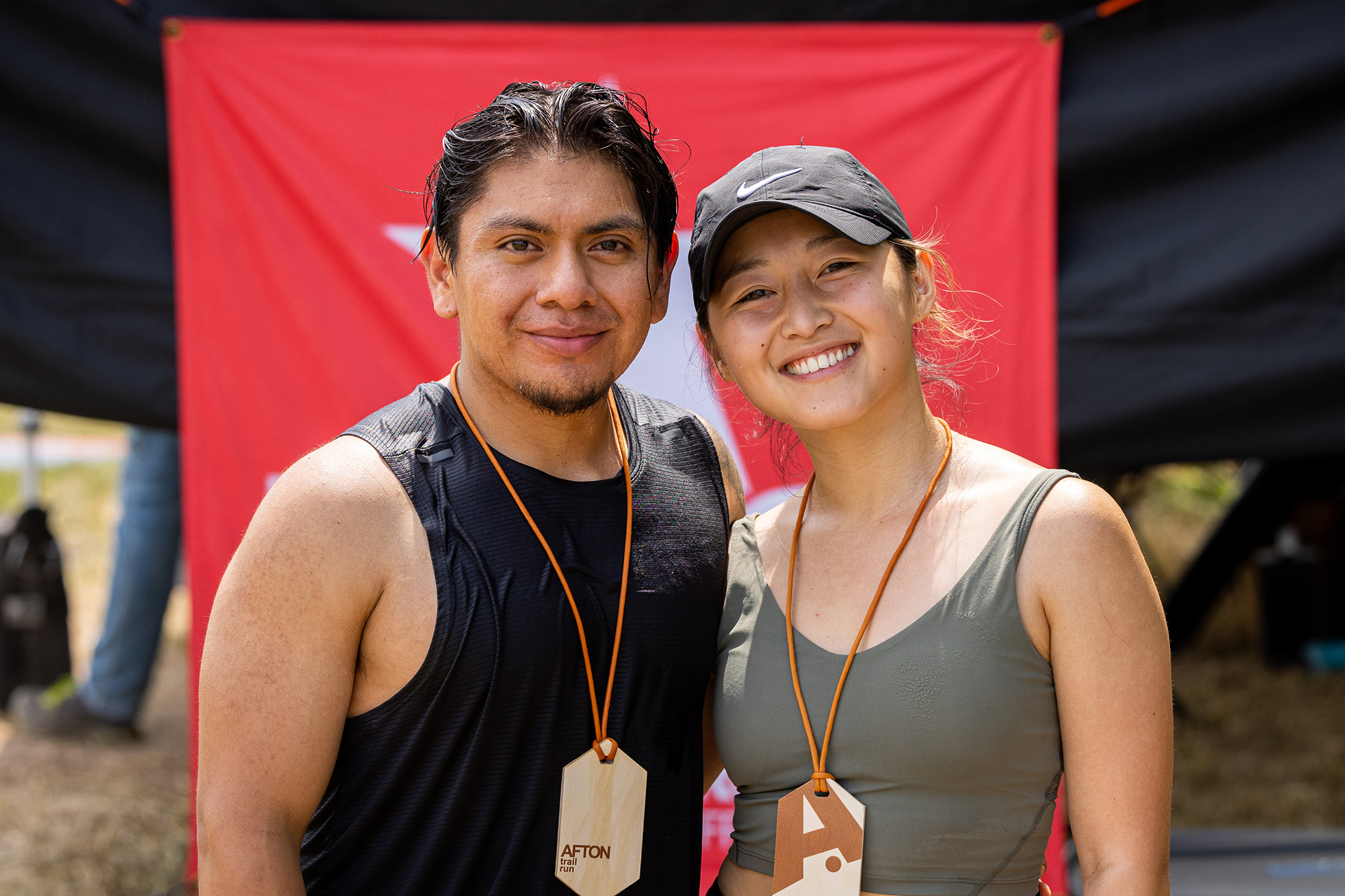 Afton happy finishers – Photo Credit Scott Rokis
Founded in 1994, the Afton Trail Run is the Twin Cities heart of Summer trail and ultrarunning tradition. The 2023 race marked the 30th Annual. The race sold out again this year with 980 registered runners from 3 countries, 28 states and 202 Minnesota cities. We had 140 volunteers and a few hundred family, friends, and spectators with us as well. With a morning low of 68F and a daytime high of 86F, it was requisitely 'Afton hot'. At the start of the races I encouraged both the 25K and 50K runners to back it off 3% and promised strong finishes for those that did. It seems as though most listened and we had some of the strongest and healthiest looking finishers crossing the line that I can remember in recent years. Our on-site medical folks were bored, just the way we like it. Several of you told me you ran PRs. Impressively there were a couple of age group records including Kirk Dewindt breaking the 25K Master's (40-49) record by 21 seconds and Jon Gardiner breaking the 25K Grand Master's (50+) record by 29 seconds. 22 year old Alex Forte ran the second fastest time ever in the 50K. Tyler Jermann ran the second fastest time ever in the 25K, just 32 seconds slower than the CR which he set in 2022. Jan Guenther took the 25K Grand-Master's title for her 7th time, she did it 2012-2017 and now again in 2023 – amazing! Congratulations to Erica Mitchell for her 50K win and Erin Green for her 25K win.
Yonas found me after the race for a selfie, he was beaming. He and a couple of close friends have been hiking in the park for some time. Last year they had gotten together for a hike the day of the race and were impressed by the event, its participants, the good vibes and infectious energy. When registration opened for this year's race the three of them claimed their spots and began training. Race day came and they participated. Judging by Yonas's ear to ear smile after the race, it is safe to say they are full-fledged converts. At the age of 78 Herb ran even splits ( 3:47:42 / 3:44:12 = 7:31:54 ) for his 20th Afton 50K finish – Herb then celebrated his 79th birthday on Sunday. Tracy Dauwalter, the mother of our sport's (arguably) most famous and revered ultrarunner (possibly ever, and a Minnesotan adored by Minnesotans) finished her Afton 50K, then waited for her friend, who was this year's final finisher. This is such an incredible sport and community.
A huge thank you to all of the 25K runners who obviously read the information we put out in advance of the race, arriving, parking and walking up to the race start plenty early. This allowed for manageable check-in and bathroom lines, and an on-time 25K start – I was seriously overwhelmed by your conscientiousness and compliance. Importantly, you helping to make the overflow parking situation a success allows 100's of non-race-related park users to enjoy the park while our race is happening – great, great job all.
As always it is an absolute honor getting to direct this race. Just 15 minutes away from our home in Hastings, I have been visiting Afton State Park since I was a kid, cut my teeth on trail and ultrarunning here and still run here regularly with friends. We work hand in glove with park management and staff getting the park ready for the race each year, which ultimately benefits all park users – Afton State Park is a very special place.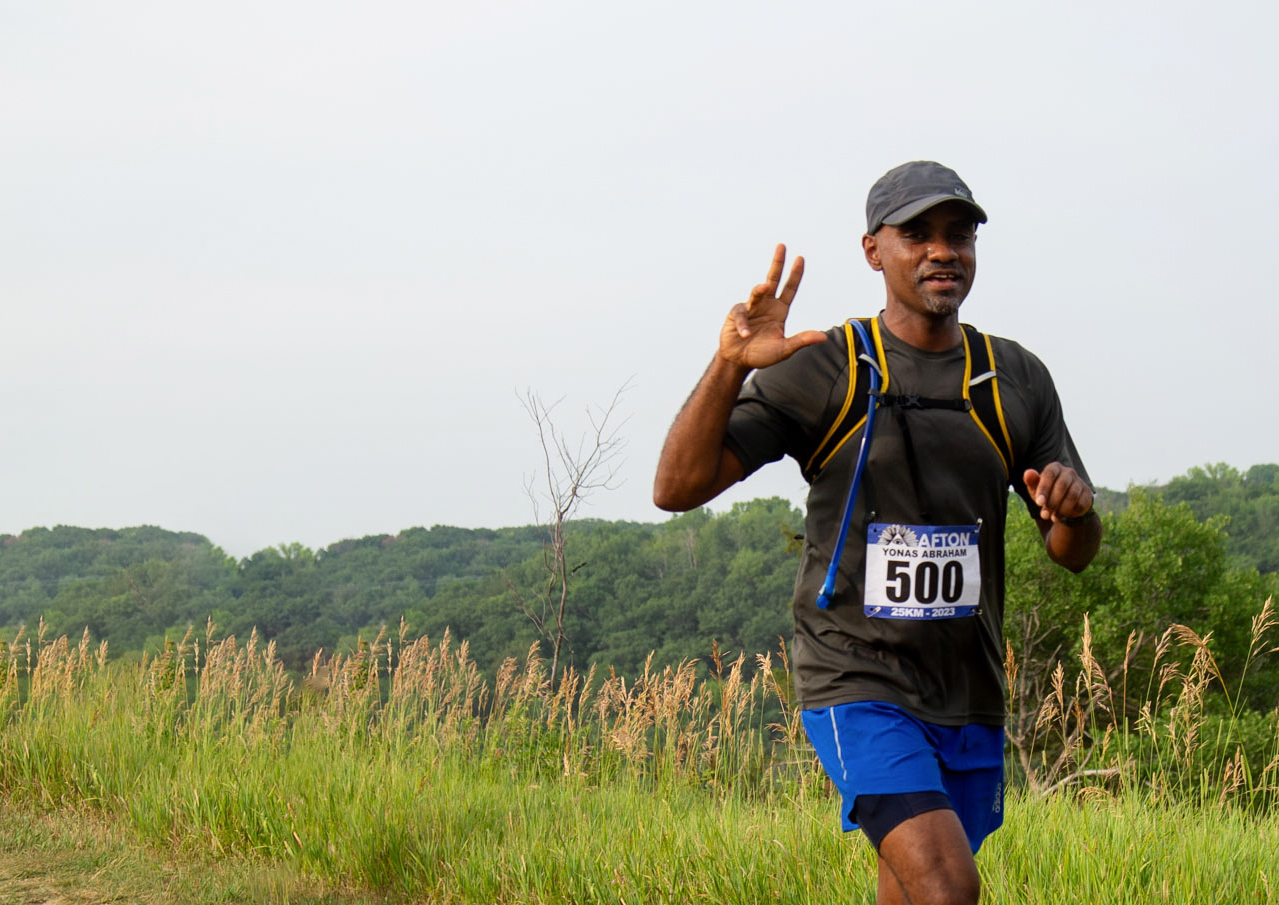 Yonas (and Friends) participated in their first Afton 25K – Photo Credit John Schultz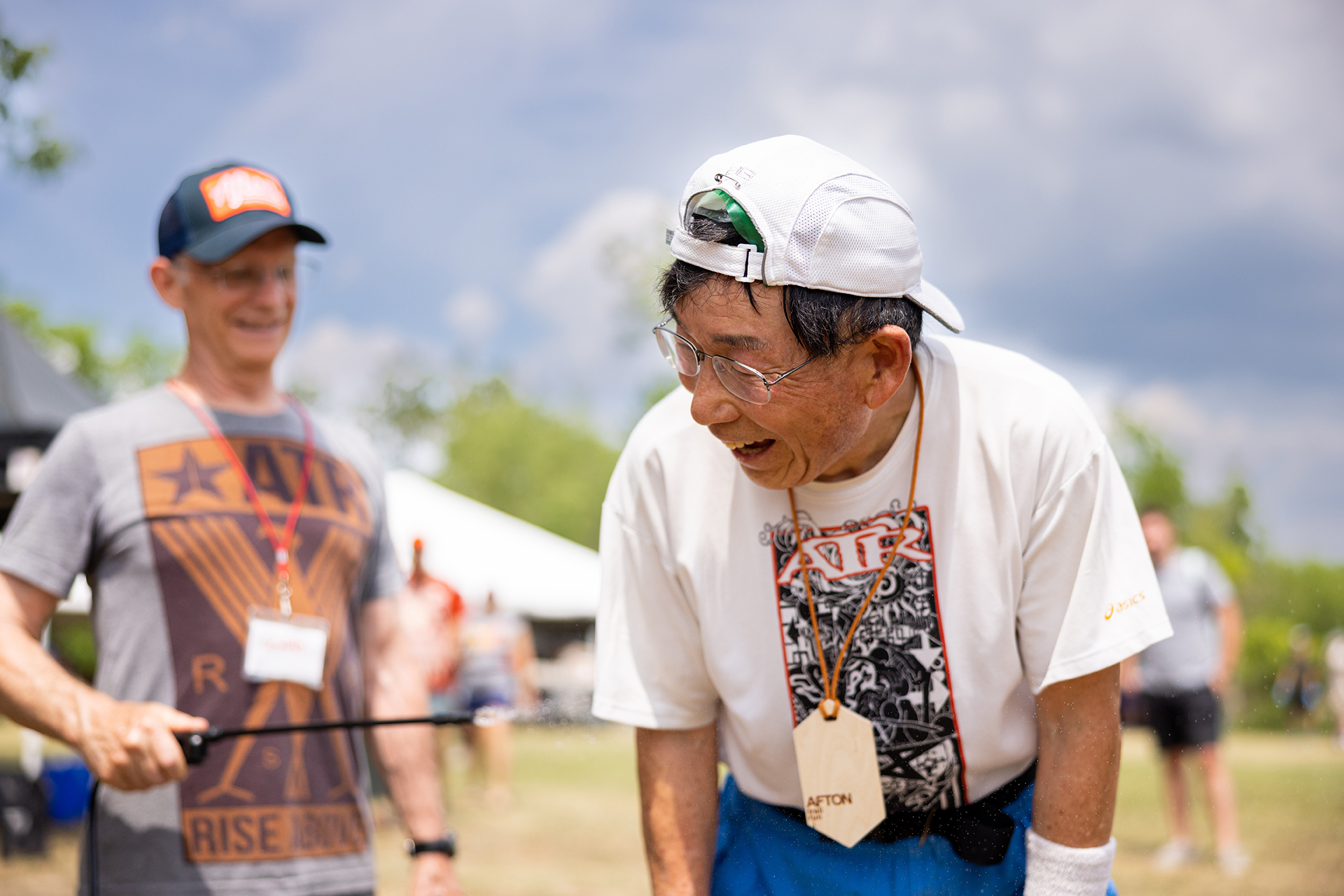 Herb cooling off at the finish – Photo Credit Scott Rokis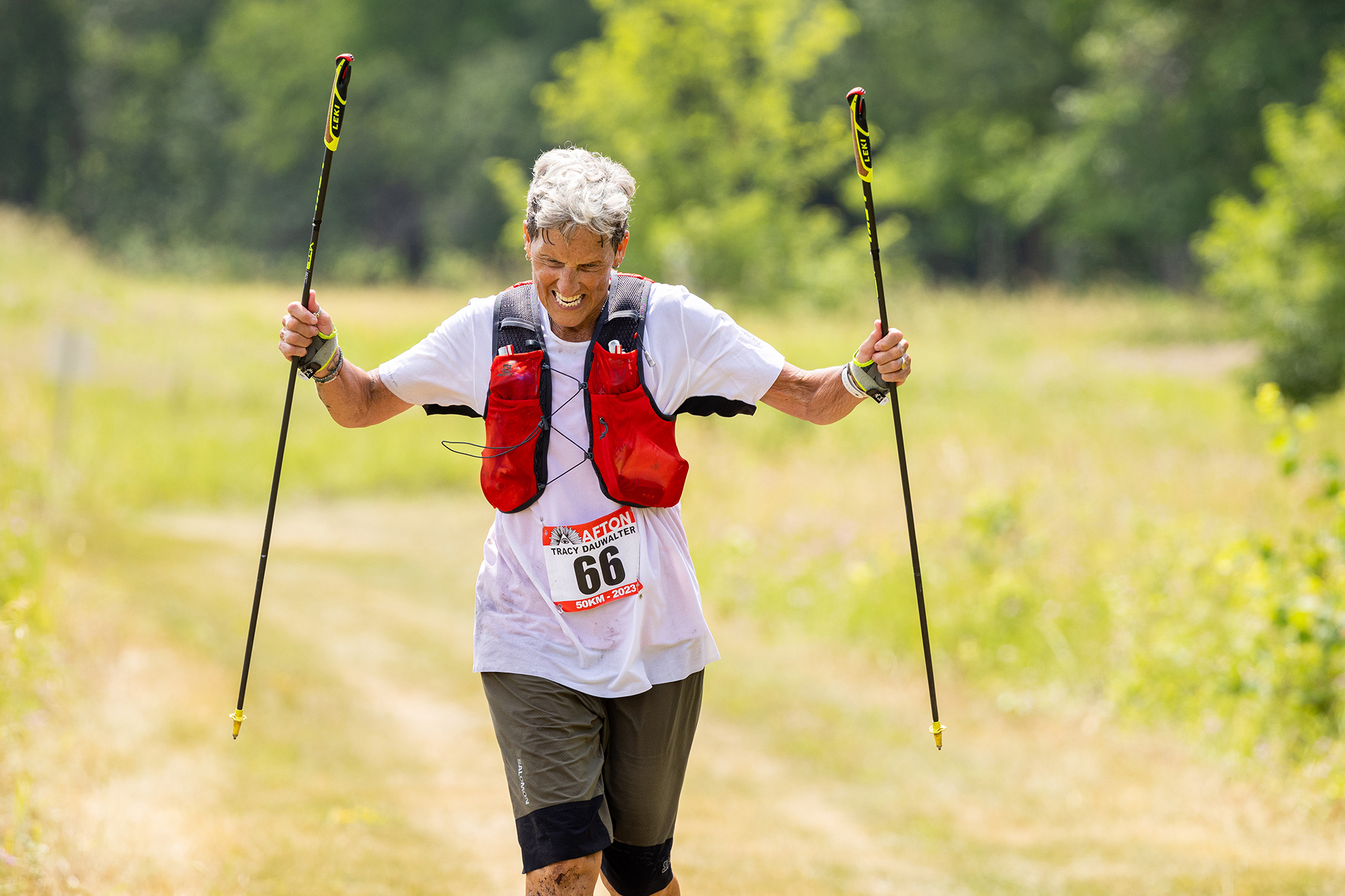 Tracy Dauwalter finishing Afton 50K – Photo Credit Scott Rokis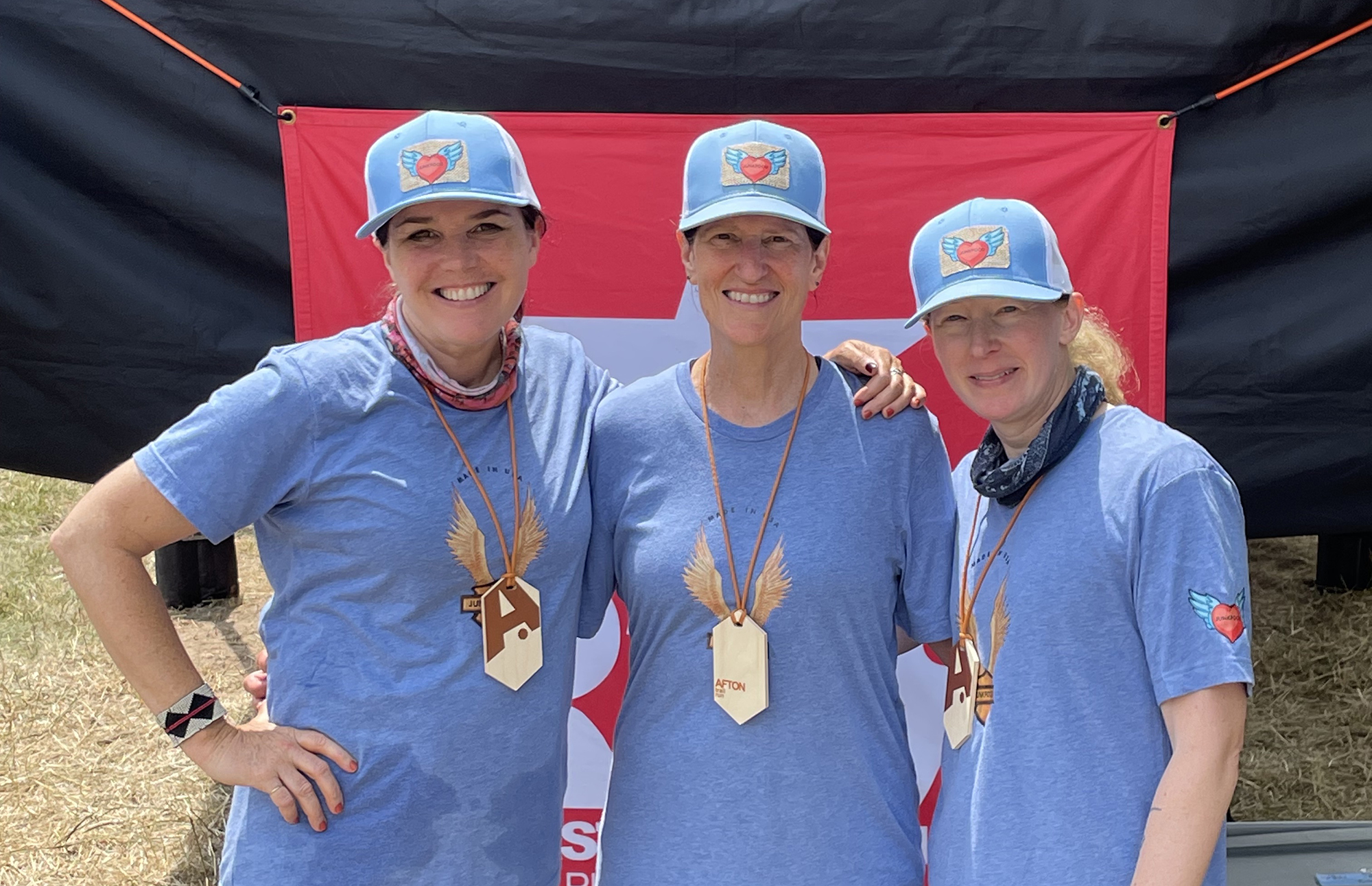 Linda and crew raising awareness for suicided prevention – Photo Credit Linda Terveer
Running in Memory of Her Brother and for Suicide Prevention Awareness:
There are as many reasons and motivations for why we run as there are runners. After the race, 25K runner Linda, and mother of one of my close friends, shared her reason for running this year…
"I was out hiking on one of my favorite trails when I got the call. Somehow, I knew it was bad news. My sister told me that our brother was gone – that was the first blow. Then I learned that it was much worse – he had taken his own life. I couldn't make sense of it, and still struggle to do so. It takes my breath away every time I tell someone that this happened. My brother dealt with significant pain from a variety of injuries and health conditions, yet no one knew this was a path he was considering. David had a loving family – wife, children, grandchildren, siblings, and his faith – yet he chose this path. His heart of gold and independent nature may have kept him from sharing, we'll never know. The only thing that did make sense was to do something that might prevent other loved ones from getting this call. My friends Melissa, Melinda and I formed 'Team Wings', named after my brother who loved the Harley Davidson wing emblem. We chose to run Afton 25K, a challenging race outside of our comfort zone, to help spread the message that we do not have to face challenges alone. We used the race as a fundraiser for SAVE.org, an organization that provides education and resources for suicide prevention and mental health concerns, as well as resources for those who are grieving for someone they have lost. Our team exceeded our goal of raising $1500 and met our goal of finishing Afton 25K. Not only did we finish, but we honored my brother, spent time healing, laughing and "rising above", as the day was hot, and the hills were challenging. The support along the way was amazing; the beverages, snacks, cooling ice and water misters, and all the volunteers who went above and beyond to get us what we needed. It was both a challenge and a gift to run Afton 25K in honor of my brother."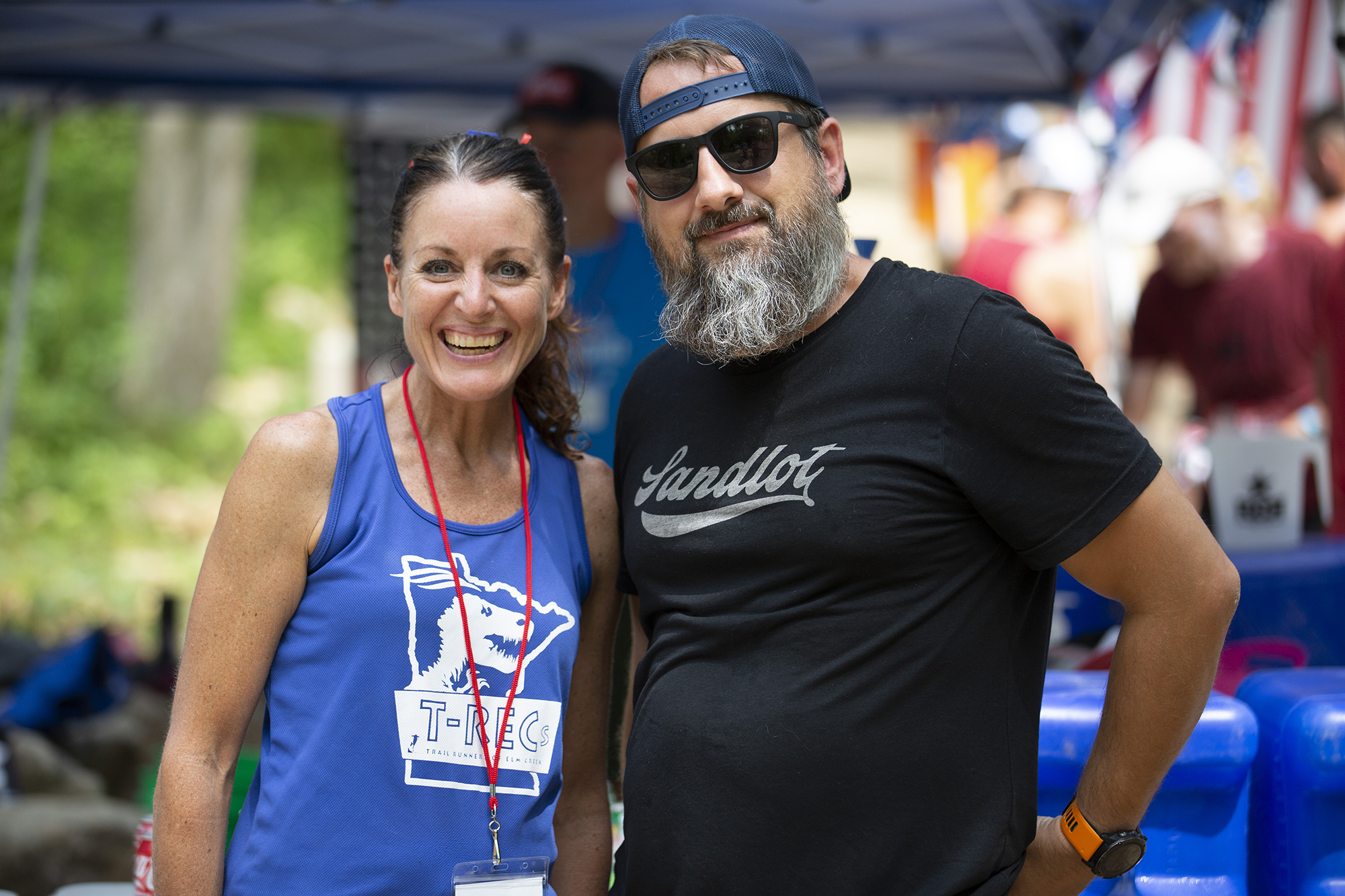 T-RECS Laurel and Matt – Photo Credit Cary Johnson
Volunteers:
Afton is not possible without volunteers – there were over 140 of them this year. I can look out on any race start line and see dozens of you who routinely volunteer with us or at other Minnesota races – thank you. For those out of town runners, I am sure you are doing as much at home / in your local trail communities. Sometimes among runners newer to the community there can be a lack of understanding who these volunteers are… it surely must be non-runners or those that can't run anymore right? Haha, not so much… Aid Station 1&2 captain Brian just ran Western States 100. Aid Station 3&4 leaders Matt, Laurel, Mark, Andy, Tim and their TREC's crew… have multiple Superior 100, Western States, UTMB (just ask Mark) and Arrowhead 135 finishes between then. Jeff who co-leads at Aid Station 5 holds the double Superior 100 FKT and just won Last Runner Standing race in Duluth. Kelly at Aid Station 6 was a 2:19 marathoner and Olympic Marathon Qualifiers participant. Andrew, 3rd place at last years Superior 100 cooked pizzas for you all day. I digress, you get the point – pick a race you are not running and volunteer! Want to see something amazing, THIS is what it takes to put on the Afton Trail Run https://www.aftontrailrun.com/volunteer-assignments/  I encourage you to take the time to read the volunteer recap / thank you HERE https://www.aftontrailrun.com/2023-volunteer-thank-you/ – Please consider volunteering at the Superior Fall Trail Race / the Superior 100 on September 8 & 9. The Superior 100 in Northern Minnesota is the 10th oldest 100 mile trail race in the country. Grab a friend or two, make some camping or lodging plans and come and be a part of something really special https://www.superiorfalltrailrace.com/read-first/
Kind Words:
After each race we receive dozens of kind emails and I like to share a few…
I've participated in Afton three times. I wanted to tell you how thoughtful your race information always is, how well organized the event always is, and how phenomenal the volunteer squad was for the runners. I was so wildly impressed this year with how kind, helpful, supportive, "on", and energetic the volunteers were at every aid station. Another mentally and physically challenging, and oh so meaningful Afton 50k Trail Race! – Melissa
I just wanted to send a quick note to let you know how much I appreciate the Afton 50K. This was my second year running the 50K, and the course, event, staff, volunteers, energy, atmosphere, and experience as a whole are second to none. I've run other ultras, marathons, and triathlons and this is hands down my favorite event. Keep up the great work. – Patrick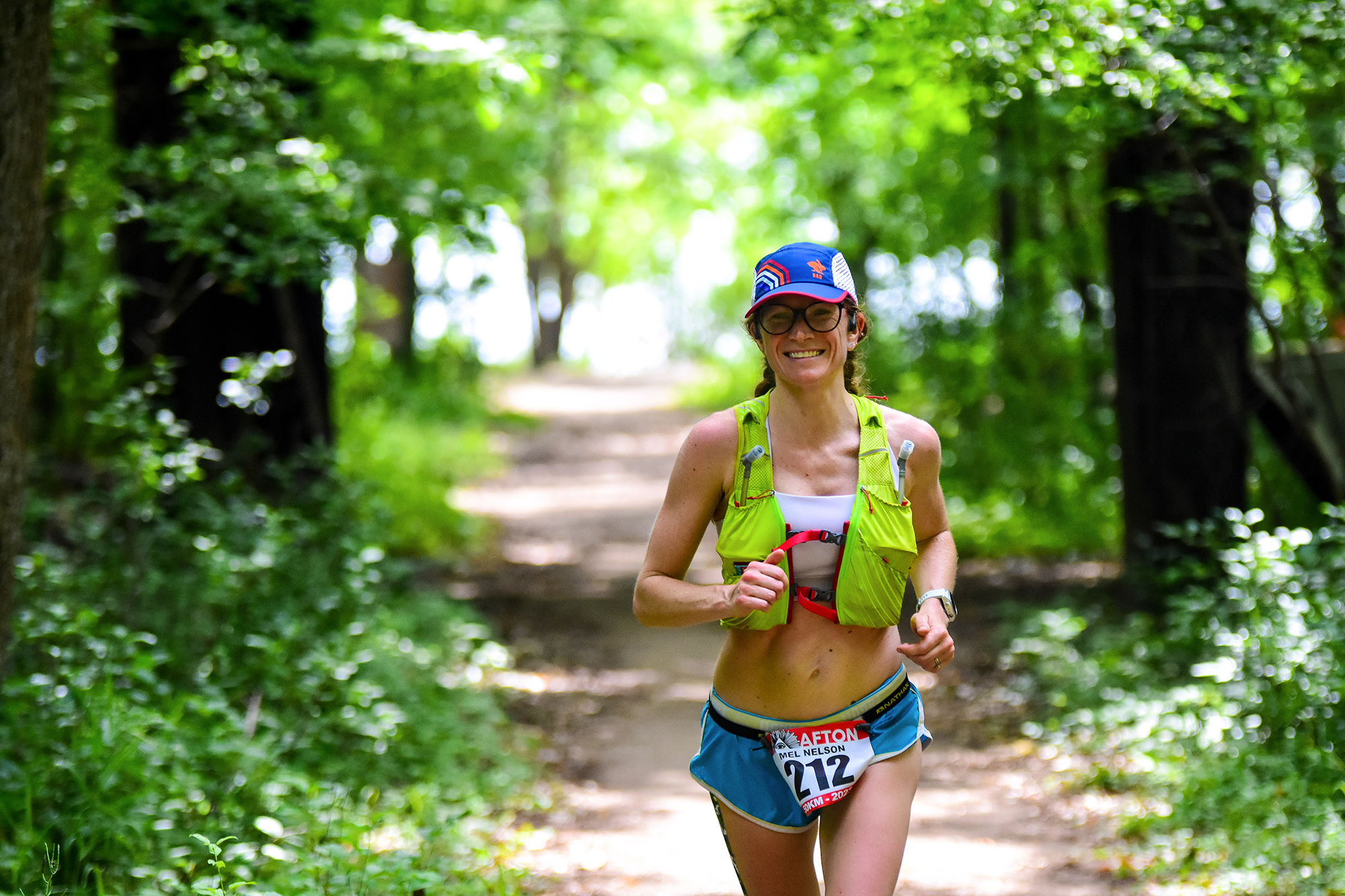 Mel enjoying her day at the park – Photo Credit David Markman
Photos:
Most of our photographers have submitted their photos from the race, a couple additional galleries are forthcoming. Please keep in mind that some of our photographers sell their photos, some make low res images available for free and sell the high res versions, some will accept tips and some give away the high res images for free. Please look for notes / prompts for each photographer / gallery. All of them put a ton of time into it and have a pile of expensive gear that makes this possible. As always it is good form to always credit (by name) and thank photographers for the photos you are sharing on your social media or elsewhere. If you want to use photos for commercial purposes please contact the photographers directly or contact me if you are unable to find their contact information.  If you are a photographer or aspiring photographer and you would like to come and help tell the Afton story, please contact us, we would love to have you and your fellow runners would appreciate it. https://www.aftontrailrun.com/photos/
Results and Splits:
Official race results are available on our website [ 50K, 25K ]. Results have also been uploaded to UltraSignup [ 50K, 25K ] and have been sent into UTMB [ 50K, 25K ] so qualifying points can be awarded to those that wish to do those races some day (UTMB, CCC, TDS, OCC).
| | | | | | | | | | |
| --- | --- | --- | --- | --- | --- | --- | --- | --- | --- |
| 2023 | Registered | Started | Start % | DNS | DNS % | DNFd | DNF % | Finished | Finsh % |
| 50K | 352 | 268 | 76% | 84 | 24% | 35 | 13% | 233 | 87% |
| 25K | 642 | 510 | 79% | 132 | 21% | 8 | 2% | 502 | 98% |
| Total | 994 | 778 | 78% | 216 | 22% | 43 | 6% | 735 | 94% |
Sweatshirts, T-Shirts, Hats and More for Sale:
If you were hoping to but did not get a chance to purchase something at the race, you can do that on our online store HERE https://www.rocksteadyrunning.com/shop/ – you can use the "filters" on the side of the page to sort and search for specific items.  We ordered some extras of this years beanie if you like to grab a couple more for family, friends, crew, etc.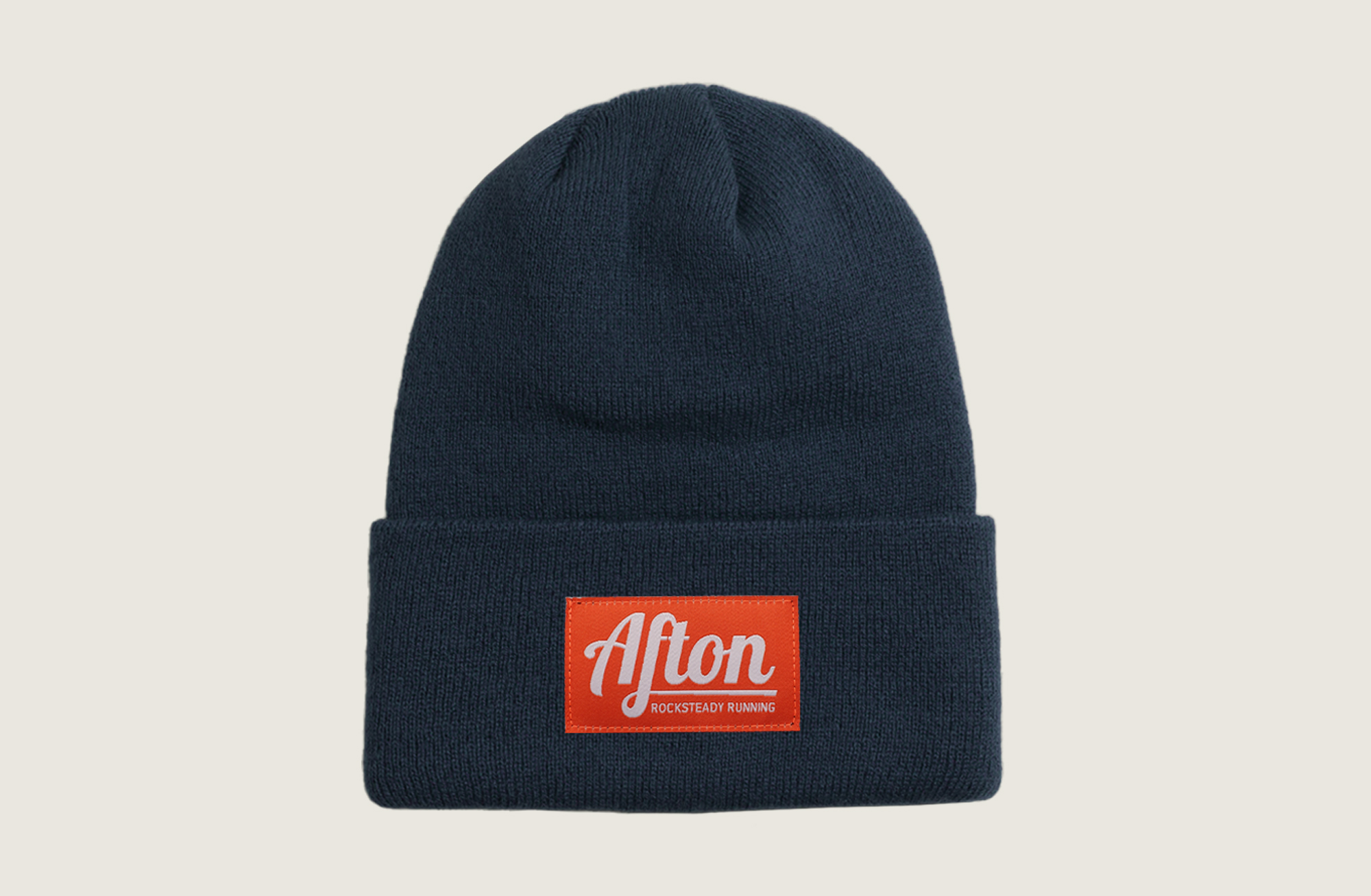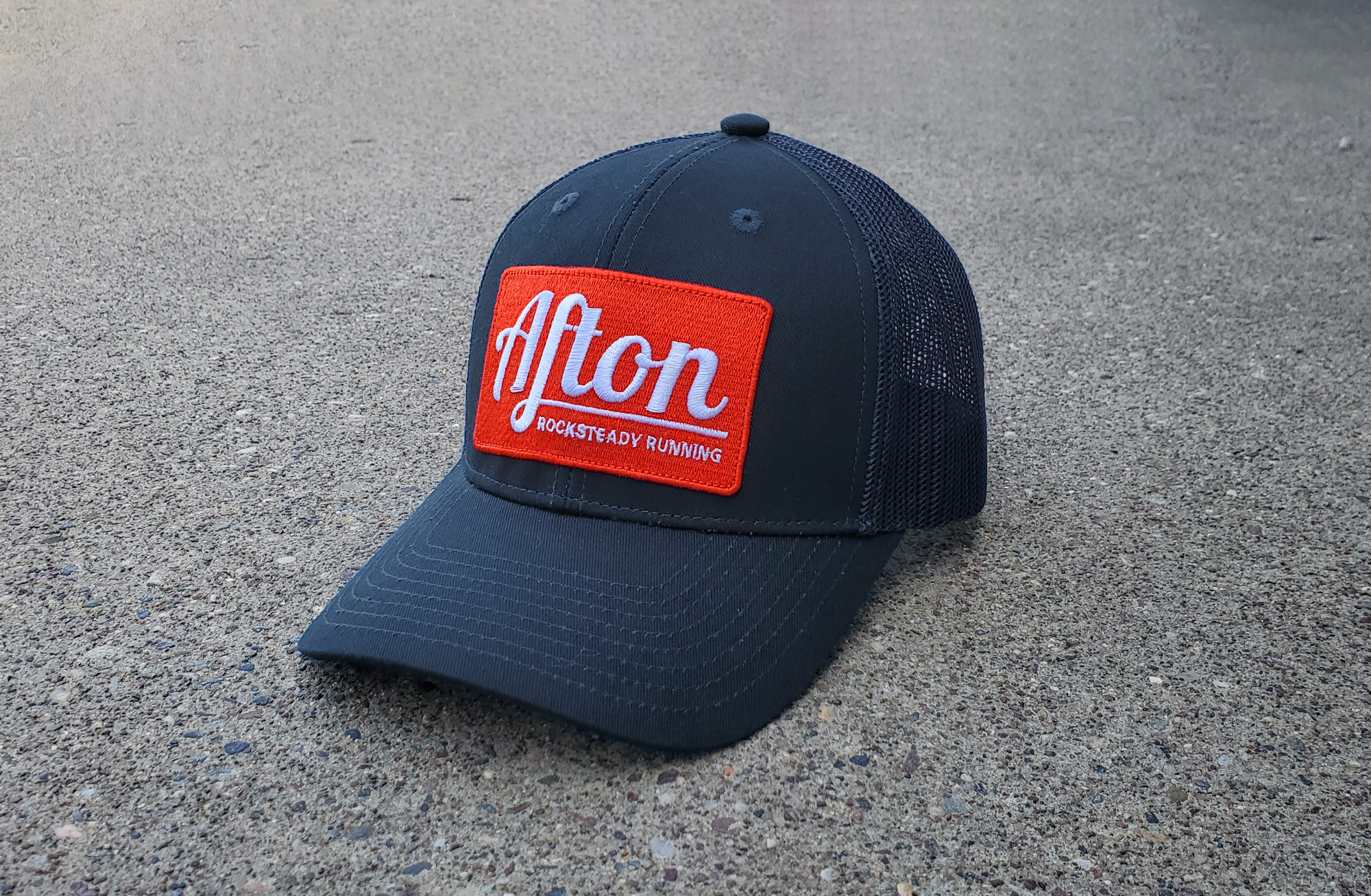 Rocksteady Community:
The Rocksteady Running Community is an online forum designed for community members to have civil conversations about all things pertaining to Rocksteady Running events (Zumbro, Superior Spring, Afton, Superior Fall, ESTRS), trail / ultrarunning in general, and more. This online forum has been built on our own platform and is not tied to any social media platform. It is free from advertising, invasive algorithms, tracking, etc. We intend for this to be a safe place to connect. Feel free to discuss registering, training for and racing our events. Discussion about the race courses, terrain, training, gear, challenges, triumphs and more are welcomed and encouraged. If you would like to create an account and participate you can do so HERE https://community.rocksteadyrunning.com/login  For safety and transparency we ask that you provide both your first and last name when creating an account. My hope is that this forum will be an engaging and useful resource that allows you to connect with one and other.
A Big Thanks to Afton Alps:
We cannot thank Afton Alps Ski Area enough for the use of their property for overflow parking – we are so appreciative!  Afton State Park is busier than ever and it is super important that we make room in the park for folks that are not part of the race. Thanks all for your willingness to park a ways away and make the long, uphill walk to the start.  This season Afton Alps is operating 'Trailhead Treats at the Crest' – it is an awesome option for a post-training-run or post-race beer, lunch or snack. Enjoy great views of Afton Alps and Afton State Park from their deck while unwinding with friends after your run. You can preview their menu HERE (subject to change from time to time). Please support them if you have time!
Mile in My Shoes:
Rocksteady Running is proud to have Mile in My Shoes as an official Afton Trail Run charity partner. MiMS is a local nonprofit that uses the power of running to bring together people from diverse backgrounds to build connections, boost wellness, spark social change, and center people traditionally excluded from running spaces. Based in homeless shelters, addiction recovery programs and re-entry centers for people exiting incarceration, MiMS views running as a tool for both personal and collective transformation. By focusing on people and spaces often marginalized in our society, MiMS teams use movement as a catalyst for social justice. By bringing together people from all walks of life, Members not only find common ground, but learn from and reach out to one another for support. Learn more HERE https://www.aftontrailrun.com/mile-in-my-shoes/
Sponsors:
A huge thank you to all of our sponsors for making our event possible!
Mill City / Saint City Running
Salomon
Vaniply / Vanicream
Trail Transformation
Afton Alps Trailhead Treats at the Crest
Steve Smillie Edina Realty
Art and Science Family Dentistry
Bell Bank Mortgage – Jerry Schmidt
RunMN Coaching
Northwoods Running
Performance Running Gym
Mile in My Shoes
Bridge Realty – Bill Pomerenke
St. Croix Law
Critical Connections Ecological Services
Afton Trail Run Charitable Legacy:
Each year the Afton Trail Run donates dollars and volunteer hours to Afton State Park. To date we have donated 1000's of labor hours and gifted over $60,000 to the park for trail and infrastructure improvements, equipment and programming.
Next Year
The Afton Trail Run is always held the first Saturday in July. The 2024 race will be Saturday July 6. Registration will open on January 1.
In Closing:
I cannot thank you all enough for being part of the Afton / RSR family!  Thank you for an awesome race, we look forward to seeing you next year!  As always, if you need anything please reach out.
Sincerely,
John Storkamp
Race Director
Afton Trail Run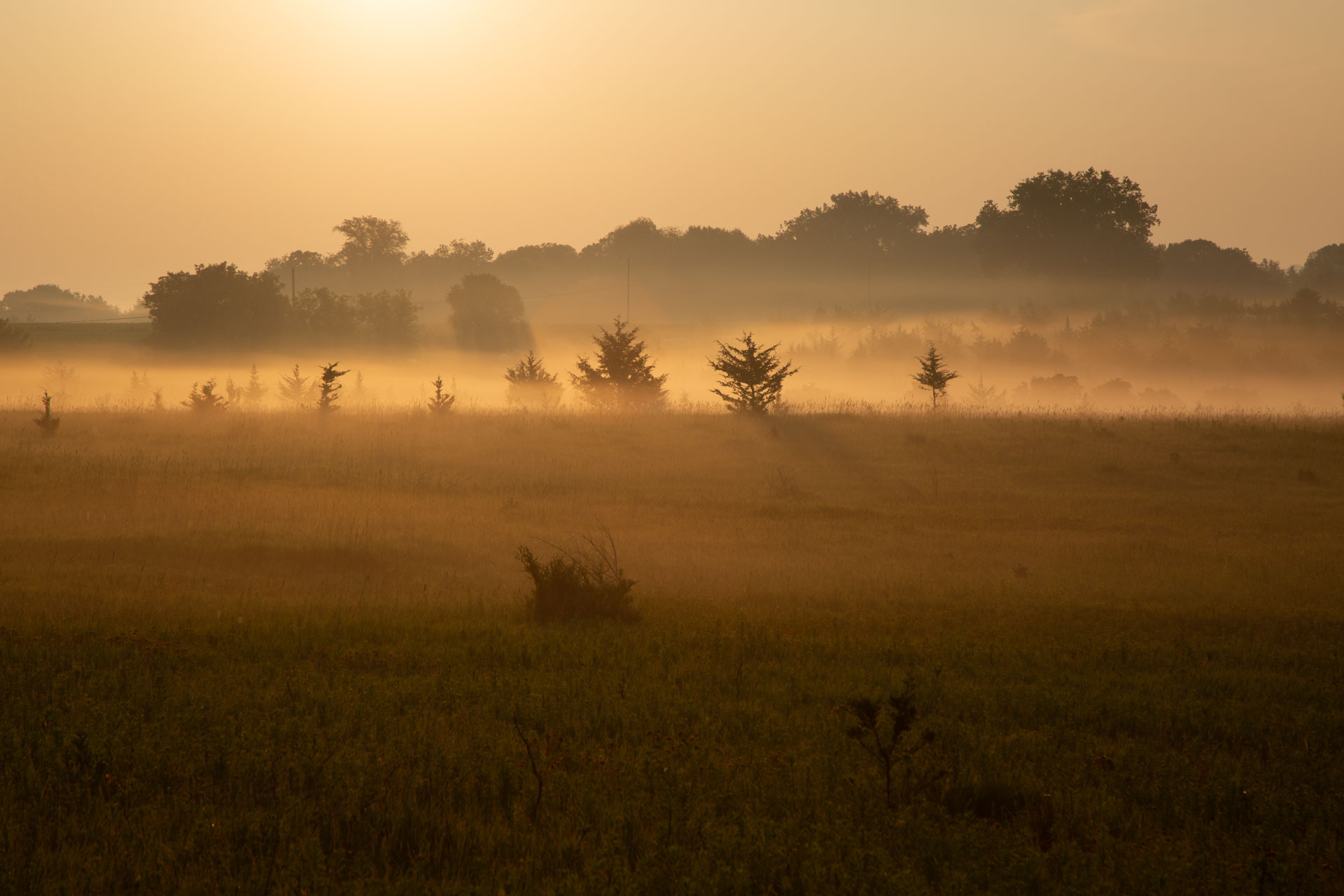 Afton at dawn – Photo Credit John Schultz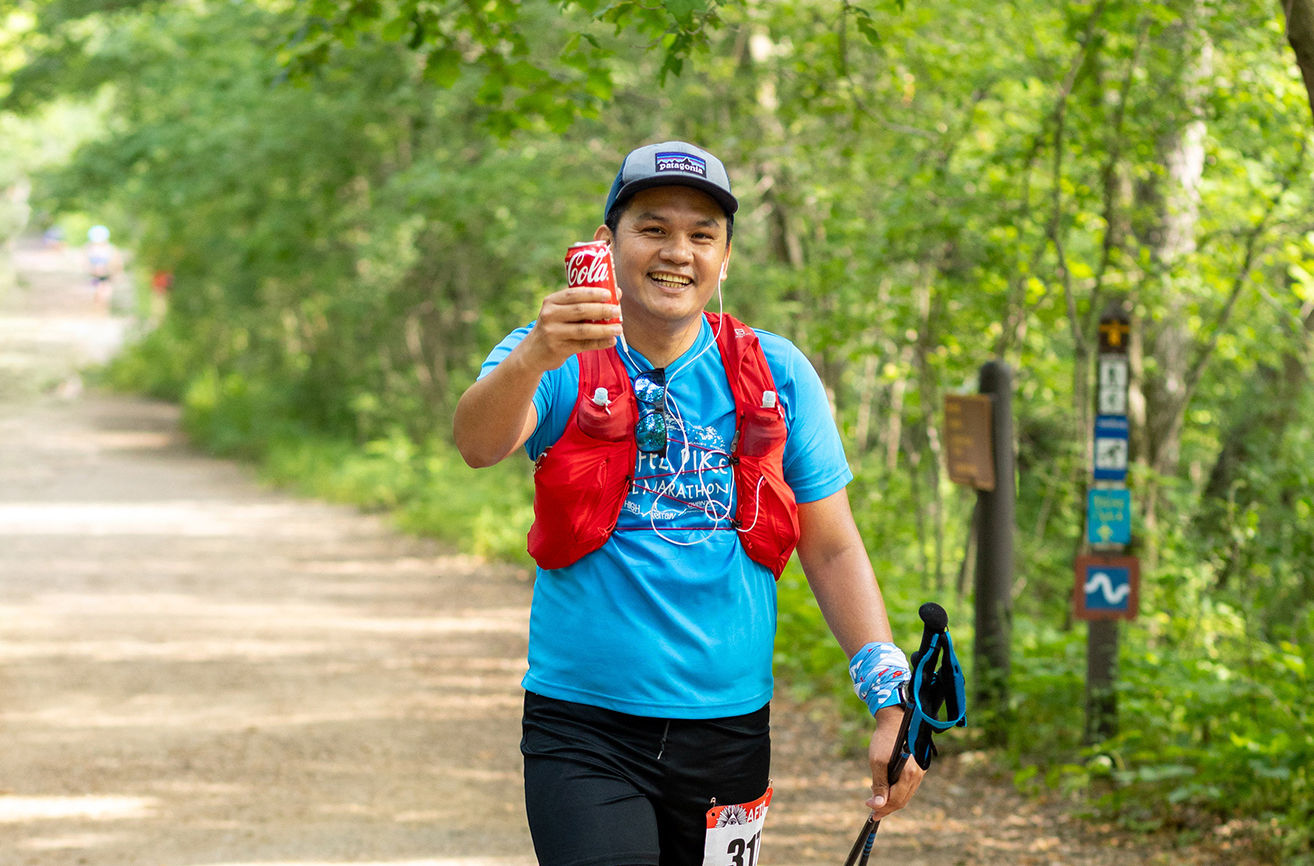 Coke and a smile at Afton – Photo Credit Jessica Knighton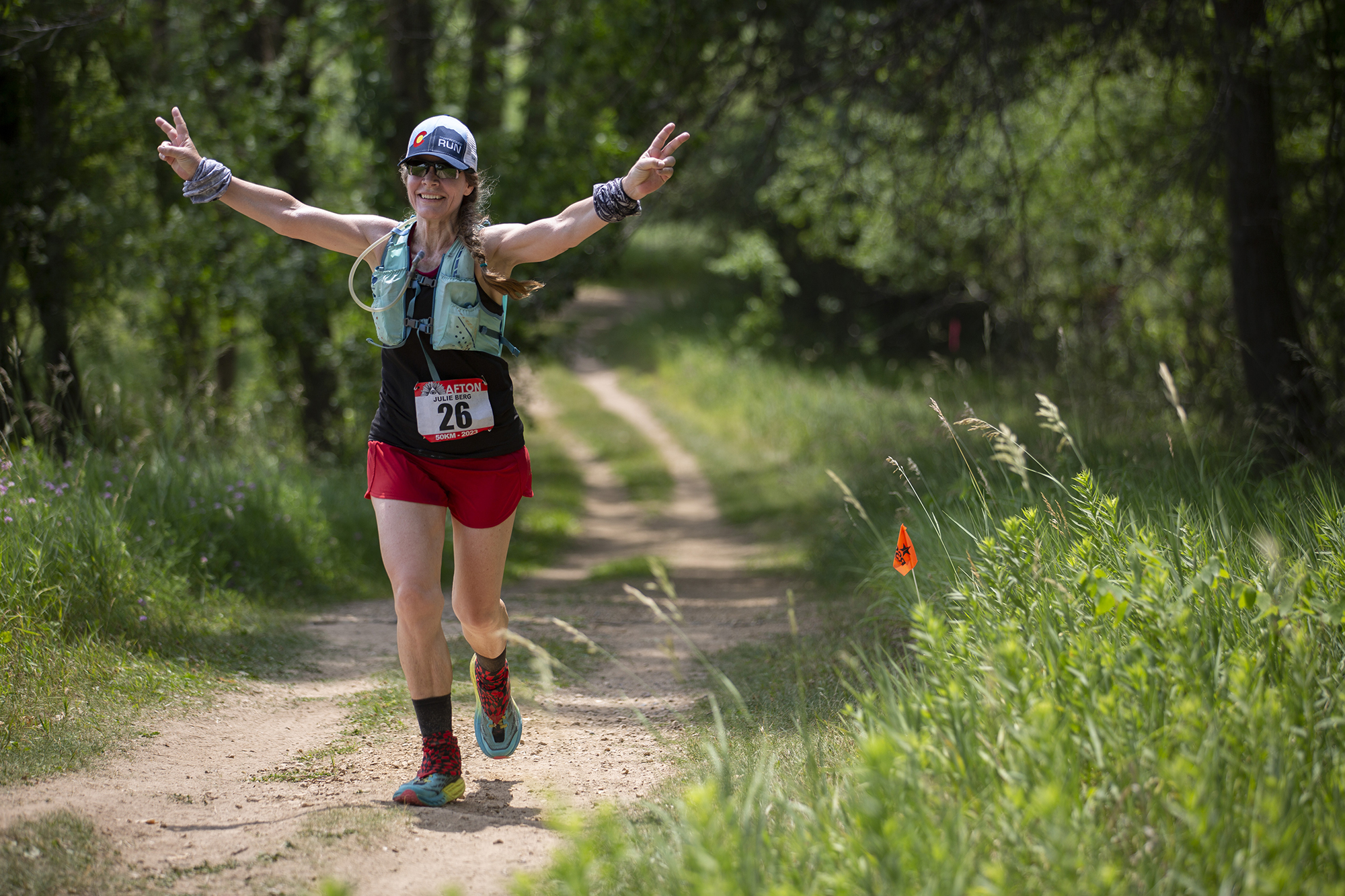 Minnesota ultrarunning OG Julie Berg – Photo Credit Cary Johnson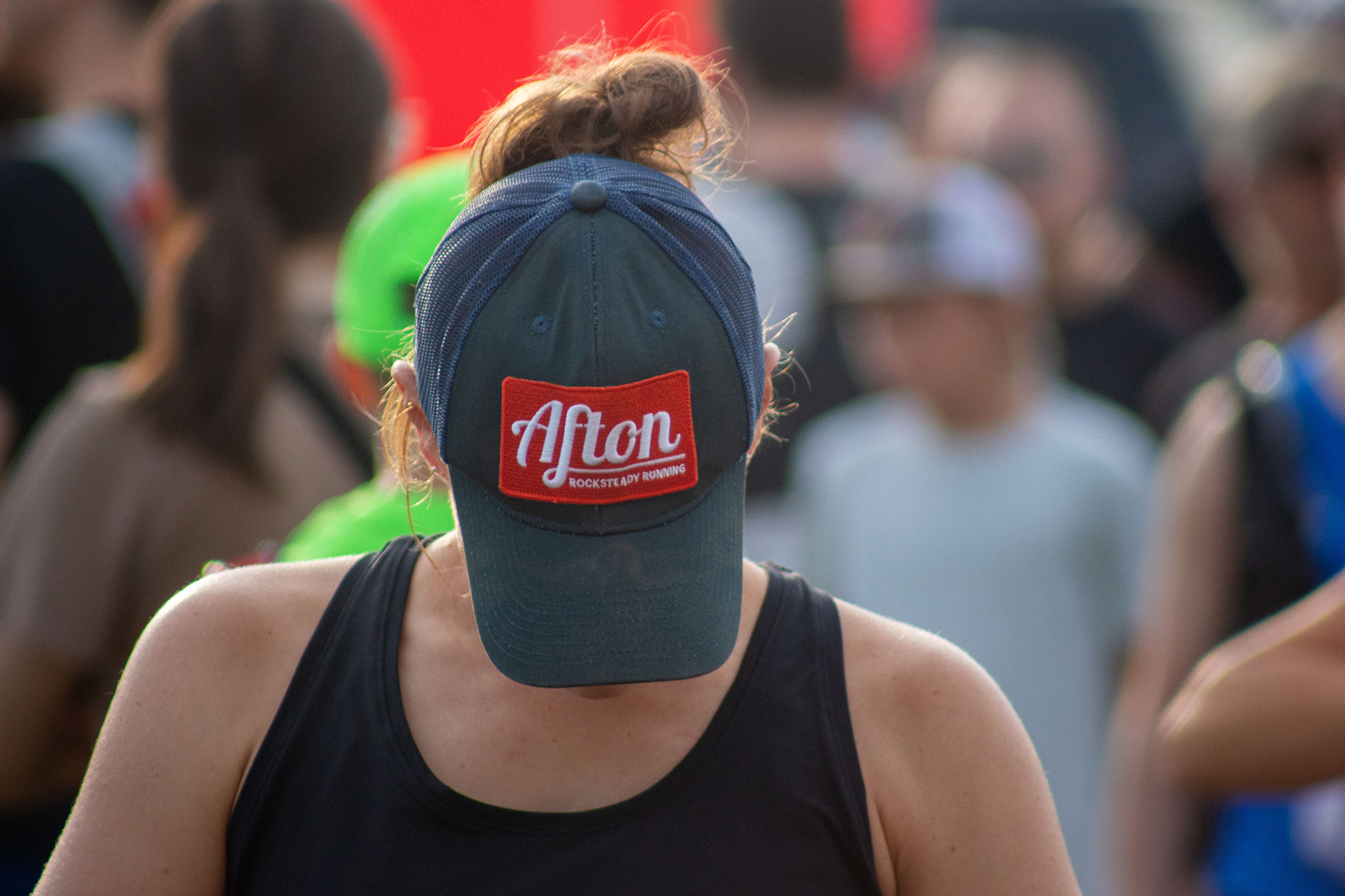 Contemplation at the race start – Photo Credit Kelcey Knott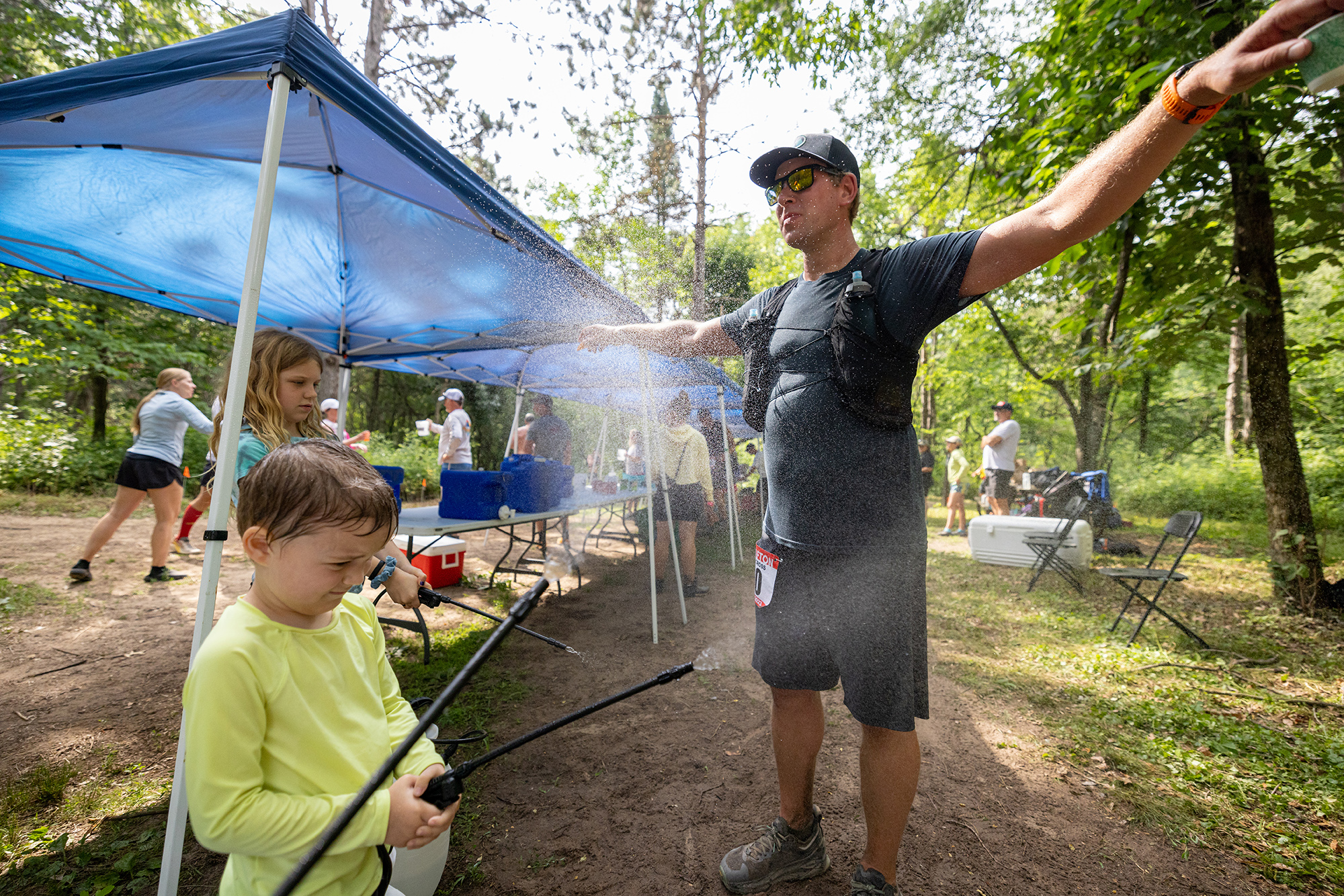 Keeping it cool – Photo Credit Scott Rokis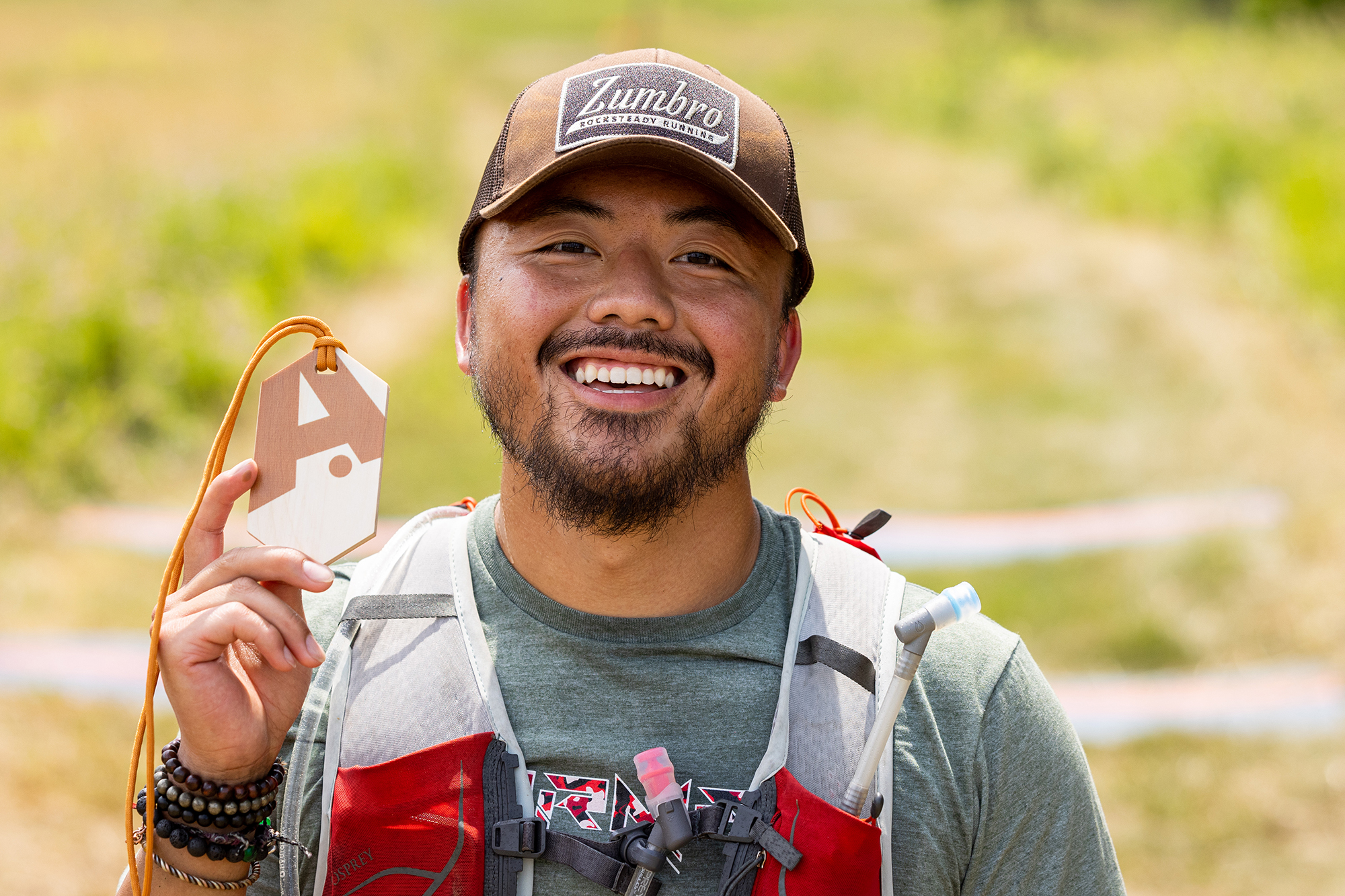 A-plus – Photo Credit Scott Rokis