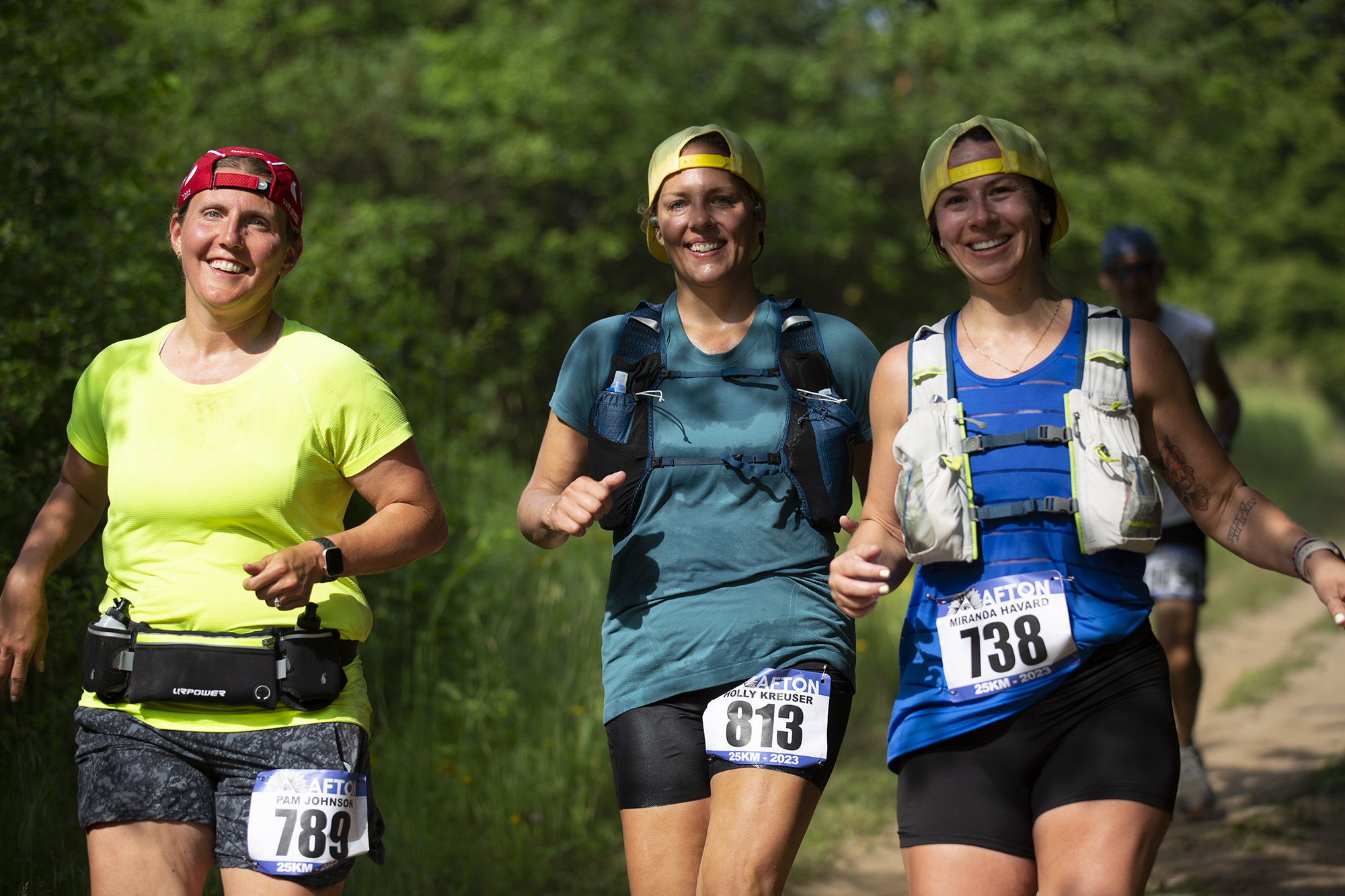 Trail time with friends – Photo Credit Cary Johnson
I have a confession to make. As I've gotten older, there are times I have feigned, hedged and 'toned it down' as to not sound like a running / endurance sports fanatic. Surely running is only so important. Surely it is too selfish an endeavor to occupy too prominent a role in our adult lives. After all, there are relationships to manage, kids to raise, bosses to please and mortgages to pay. And sometimes it's true, I have more than enough energy for Saturday's long-run and none leftover for Sunday's yardwork. Even the most righteous act taken out of balance can become harmful.
Maybe there were times early in my running that too many eggs went into the running basket. Then again, running literally helped save my life.  As an adult, it routinely saves my sanity. We live in a time with heartbreaking rates of depression, addiction, overdose and suicide. Less dramatic but maybe more insidious is the general sense of anxiety, discontent, disconnect and malaise that so many feel. Running it turns out, is natures perfect medicine. Time outside, fresh air, exercise, time away from technology, an easy and accessible form of meditation, friendships made, meaningful conversations, shared interest and community are just some of the gifts we receive through running. These are all scientifically proven corollaries of mental, physical, spiritual health and longevity. In studies of the 'blue zones', those places on earth where people live the longest and most meaningful lives, one of the common and unifying factors is a sense of community. While many of us are fortunate to find ourselves part of multiple (family, faith, work) communities, we are blessed to be a part of this running community as well. You, as volunteers, are the vanguards of this community – trusted leaders that help create experiences and facilitate connections through these annual rituals that we call 'races'. Thank you for doing these important works with me. For all of the gifts that we give, I know we in turn receive as many, if not more in return. My apologies if any of that sounds over the top – maybe I am a running fanatic after all.
I encourage you check out the complete event recap HERE https://www.aftontrailrun.com/afton-2023-recap/
Thank you all, for everything. As always, please reach out if you need anything.
Gratefully,
John Storkamp
Race Director
Afton Trail Run