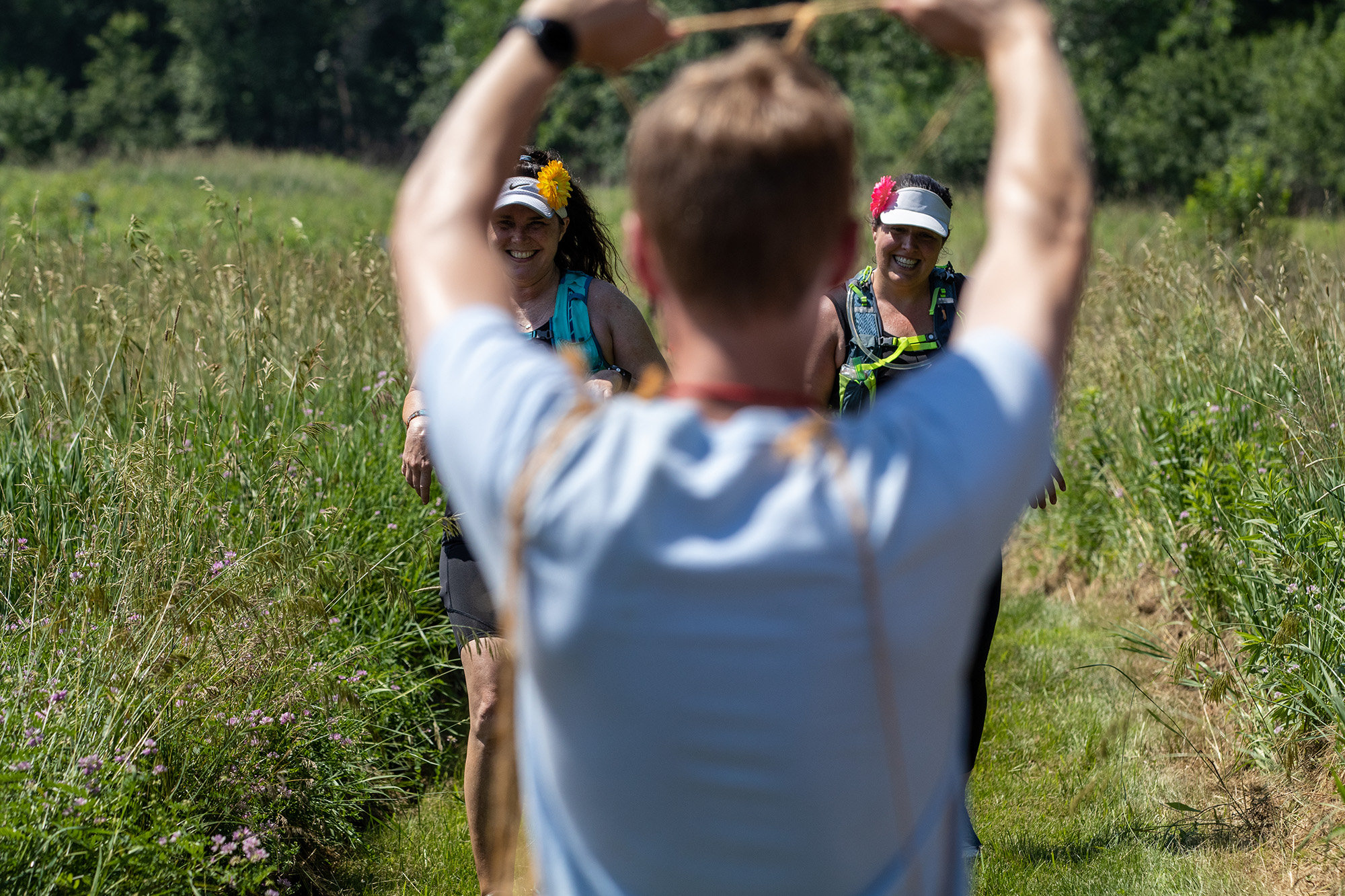 Written By John Storkamp – Afton Trail Run Race Director | Above Photo: Tone Coughlin
Afton was Awesome. I don't mean awesome like we casually use the word today, but how it was used 100 years ago, with all the weight and impact of its intended meaning. I read an account of the Hindenburg once where they described the destruction as awesome. Thankfully Afton was a much more joyous occasion.
:// Awesome; causing or inducing awe; inspiring an overwhelming feeling of reverence, admiration, or fear.
Reverence, admiration, awe… yes, that is the kind of awesome that I am talking about. Now 42K old, the 26th Annual Afton Trail Run hosted runners from 5 countries, 30 states and 180 Minnesota cities – 977 registered between two distances, 639 in the 25K and 338 in the 50K. If you happened upon the finish line of the race you might be confused – is there really that many people here and did they come that far? Afton manages to pull off Summer subdued and big-time trail race at the same time and it vibrates, as in, damn, that vibe. 210 volunteers, temps in the 80s and humid, 96 seven gallon water jugs filled and delivered, 1200 lbs of ice, 250 lbs of dry ice, 2300 FT of climbing for the 25KM and 4600 FT of climbing for the 50KM, a picnic to feed a 1000 and we had a race.

50KM
50K Registered: 338, Started: 285 (84%), DNFs: 38 (13%), Finished: 247 (87%)
Sara Conrad is a runners runner. She works hard, she grinds away each season, she always shows up, she competes but does not come across as competitive… this result was just a matter of time. Sara takes the 50K win in 5:01:35. Kayla Anderson cruised in just three and a half minutes later in 5:04:03 the margin to third even closer with Tammi Braund taking the Master's title in 5:05:51. The first Grand Master to cross the line was Elena Shemyakina in 5:12:48, good for 6th woman and 35th overall. Consider this… our Grand Master division is 50+, Elena is 60, the second place grand master ran 5:53:57 (still a great time) and is 50, third is that division was 61, fourth was 51 and fifth was 61. My goodness the depth in this division this year!
Ben Schneider was named as one of many early favorites to take the 50KM race. In order to prevail he was going to have to contend with some of elite ATR alumn including Michael Borst who holds the third ever fastest time on the course (3:42:35 set in 2013). And there were others for sure. What Ben lacked in ultra-trail specific experience really did not matter as Ben is a unique runner who has proven countless times over that he can run fast on hot and hilly road marathon courses – so if there was a race that was going to play to Ben's strength, it was Afton and he delivered going 3:51:14 on his first go-around at Afton 50K which is no small feat. After placing second at the Superior Spring 50K eariler in the year, Matthew Eidenshank took another second in 3:53:26 – anytime you are talking sub 4:00 at the Afton 50K, you are talking fast and Ben and Matthew were the only two to do it on the day. Rounding out the top three was aforementioned Michael Borst in a time of 4:03:01. The first Grand Master was Matthew Reinders (51) in 5:12:19, Arley Anderson was second in 5:12:42 (54) – remember the women's Grand Master champion from above, she ran 5:12:48 making her the third Grand Master overall.
Our oldest finisher Herb Byun is 75. He finished Afton for his 17th time, 203rd out of 247 runners in a time of 7:17:57, as we watched him cross the finish line somebody said, "how is this even possible". We are going to see to it that Herb gets some national press sometime soon. Also finishing his 17th Afton 50K and tied with Herb for the most 25K wins is Joseph Galloway. Other milestones… Stephen Corner and Steve Hagedorn both finished their 12th Afton 50K. Patrick Gorman hit 10 this year.
25KM

25K Registered: 639, Started: 531 (83%), DNFs: 6 (1%), Finished: 525 (99%)
In the 25K which also serves as the USATF Minnesota Trail Championship race (more info to follow) the competition was just as good as in the 50K. On paper, the women's race looked like it would provide a little more drama than it ultimately did – Margaret Ho had no equal on the day running a stellar 1:52:52 making her the 4th fastest woman ever on the modern day 25K course. Some context… here are the names of the top 7 fastest ever runners at the Afton 25K; Kate Pallardy (1:47:45 in 2016), Emma Lee (1:50:54 in 2014), Kelly Boler 1:52:34 in 2016), Margaret Ho (1:52:52 in 2019), Jillian Tholen (1:52:57 in 2016), Anna French (1:53:35 in 2017), Eve Rukavina-Rembleski (1:54:00 in 2003). If you follow running – you know what this means as all of the women listed are / were elite runners. Margaret was 2nd at the Minnesota Voyageur 50 Mile last year and is running again this year – we are excited to see how that unfolds. Brianna Rohne took second in 2:10:35 while Diane Hankee took third just seconds behind in 2:10:43 and was the first Masters runner. The first Grand Master to cross the line was Kris Hansen with a time of 2:33:58
The men's side ran a touch closer than the women's with Ryan Becker taking the win in 1:39:53 – Ryan now only one of three men with two or more wins at the Afton 25K. Adam Condit was second in 1:42:57 and Olivier Vrambout rounding out the top three and also earning the Master's champion title in 1:43:51. The first Grand Master to cross the line was Robert Day with a time of 2:02:22 – this was Roberts fourth time claiming this title, he has now won it at the ages of 50, 52, 53 and 54.
The Afton 25K once again served as the USATF Minnesota Championship Race. Association members competed for titles and a cash prize as outlined HERE https://www.aftontrailrun.com/usatf-minnesota-championship-race/ – results from this competition within the competition can be found HERE https://www.aftontrailrun.com/wp-content/uploads/2019-USATF-Minnesota-Trail-Championship-Results-Afton-25K.jpg – USA Track & Field drives competitive excellence and popular engagement in the sport of running. You can learn more about USATF and what they offer HERE http://www.minnesota.usatf.org/
Our youngest runners of this years Afton Trial Run were in our 25K distance, Lillian Hopkins and Becca Hadtrath, 8 and 9 years old respectively – both finished bouncing and beaming, yes, these could be future ultrarunners or not, whatever path they choose now, these two young ladies have this unique experience running along with their fathers to carry with them. Both Lillian and Becca's families are longtime volunteers with Rocksteady Running and the Afton Trail Run. #TrailFamily
In the numbers game, Bennett Henderson is now tied with the most finishes of anyone at the Afton 25K at 13. Steve Geronime and Dan (The Man) Valentine both rant their 11th Afton 25K.
Volunteers:
Did we mention the number 210? Some new, most repeat, most runners, a few who are not which is even more incredible. With 816 starters that is a volunteer to runner ratio of 1 to 4, how is that for support!. There is a whole other post about this / our thank you letter to volunteers – you should read it, can be found HERE https://www.aftontrailrun.com/2019-volunteer-thank-you/ but the bottom line, we use the word 'volunteer', but more appropriate words would be team, trail-people, friends and family. They all said they are coming back and doing it again next year – I am already stoked.
Another year is in the books, join us next year for the 27th Annual, it falls smack dab on Saturday July 4th. Its going to be AWESOME.