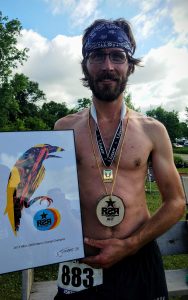 An interview with 2017 Afton 25K winner Benjamin Cogger (BC). Interview conducted by John Storkamp (JS) – Afton Trail Run Race Director
JS – Ben, congratulations on your awesome Afton 25K performance this past weekend, you have to be happy with the win!
Yes!
JS – There were some pretty dang capable runners in the 25K again this year with eight guys between 1:40 and 1:50 – can you tell us a little bit about how the race unfolded out there?
BC – Following your prerace warning of drainage work immediately down-trail from the start, I thought I would take the lead from the start to have room to navigate. I took it out fairly quickly on the initial descent and gapped the lead group by a bit. I eased back the pace on the flats and Davin Grapentine caught up and was with me until about 10 miles into the race, at which point I opened up a bit on a flat stretch and built a lead going into the climb out of the river bottom. Being my first time at Afton, I got "lost" in the last 4-5 miles in the sense that I didn't really know where I was on the course relative to the finish so again, eased back on the pace to make sure I had enough energy for the remainder feeling comfortable with my lead. I finished feeling well, happy to have had a good run along with some other excellent runners.
JS – ​Back in May at the Superior 50K​, you took down a really impressive and well tested course record which had been owned by Chris Lundstrom  – did you come into this race in top form or are you rebuilding from Superior and for the forthcoming Voyageur 50 Mile in a couple of weeks?
BC – Afton was a race I trained through, I had ran Grandma's Marathon two weeks previous and thought the 25K would be manageable race distance post marathon and a good speed workout before Voyageur (as much speed as that requires). Road marathons are harder on me than trail running, my legs certainly weren't as fresh as at Superior!
JS – Anything you would like to mention about that Superior 50K course record since I did not get a chance to ask you about that after Superior?
BC – I must credit Kurt Keisser and Matt Eidenshink for setting a really ambitious pace in the first half of the race. At the top of Carlton peak, I thought if one of us can keep this pace, the finishing time will certainly be close to the record. I didn't think it would be a record breaking year, plenty of mud, but I guess having run the course several times previous I knew what to expect and managed to nearly even split on the way back which was enough for a record time.
JS – Your time was the 16th fastest time ever run on the modern day Afton 25K course but that does not tell the full story, your time was blazing fast.  Most of the guys in the top 15 have historically been very very fast road runners (think sub 2:30 marathoners and 14-mid 5Kers) but you are probably one of the fastest trail specialists to run the Afton 25K – is calling you a trail specialists fair?  What is your running background for those that do not know?
BC – Over the years I have gravitated to trail racing more exclusively, I find it more exciting, wholesome and easier on the body. I would consider myself a "trail specialist" I suppose,  and have always been a trail runner. I grew up on the edge of the Chequamegon National Forest in northern Wisconsin and most of my summer running growing up was done on trails and forest roads. I ran cross-country and track at UMD and had a good training group that liked to explore the vast trail networks of Duluth. Having moved back to Duluth five years ago, trail running is easier than ever with the expansion of the Superior Hiking Trail and the Traverse. The bulk of my running is on trails and speed is often limited by the technical nature of the trail and as a result I don't do a lot of running under 6:00 pace. Additionally, having a one and two year old has cut out quite a bit of my time to run and sleep, but one learns to adapt… A generally non-technical, runnable course like Afton would certainly cater to the road runner used to running 5+ pace. This was my first 25K trail race and would certainly need to do a bit of speed were I to reach my potential. 
JS – How are you feeling about the upcoming Voyageur 50 Mile?  If I am not mistaken this will be your first race over 50KM?  To me, this Voyageur looks like it is going to be one of the most exciting an competitive trail races ever contested in Minnesota.
BC – Thirty-one miles is as far as I have ever run, so I really don't know what to expect or how my body will hold up over 50 miles of Voyageur. I have also heard that it will be a competitive year, though my approach to Voyageur is quite bit different than Superior, a course I know and a distance I have run numerous times. I have run most of Voyageur in pieces and know what the trail holds but primarily, I will just be getting used to that much time on my feet.
JS – Do you have any Fall racing plans?  You don't seem to over-race, rather it seems like you focus on a couple of races a year, and try to win them… is that accurate?
BC – I tend not to race too much as I have a young family and numerous other hobbies and activities that I also like to devote time to so my approach generally is, if I am going to race, try to come into a race in top form. I am not sure what the fall holds yet, probably one or two more races before the snow flies and I always enjoy the local NMTC races here in Duluth. 
JS – Any other thoughts or comments about your Afton race / experience?
BC – Having never been to Afton State Park, I was really encouraged to see intact bluff land/ river corridor located so near to St. Paul. The trails, vistas, climbs, descents and river were great! It's always nice to see such a large crew out for a trail race and Afton lived up to the praise I have been hearing for a long time. Thanks to you for organizing the event and all the volunteers as well!