An Interview with Ben Schneider (BS) after his 2019 Afton 50K win – Interview conducted by Kevin Langton (KL). Photo Credit: Fresh Tracks Media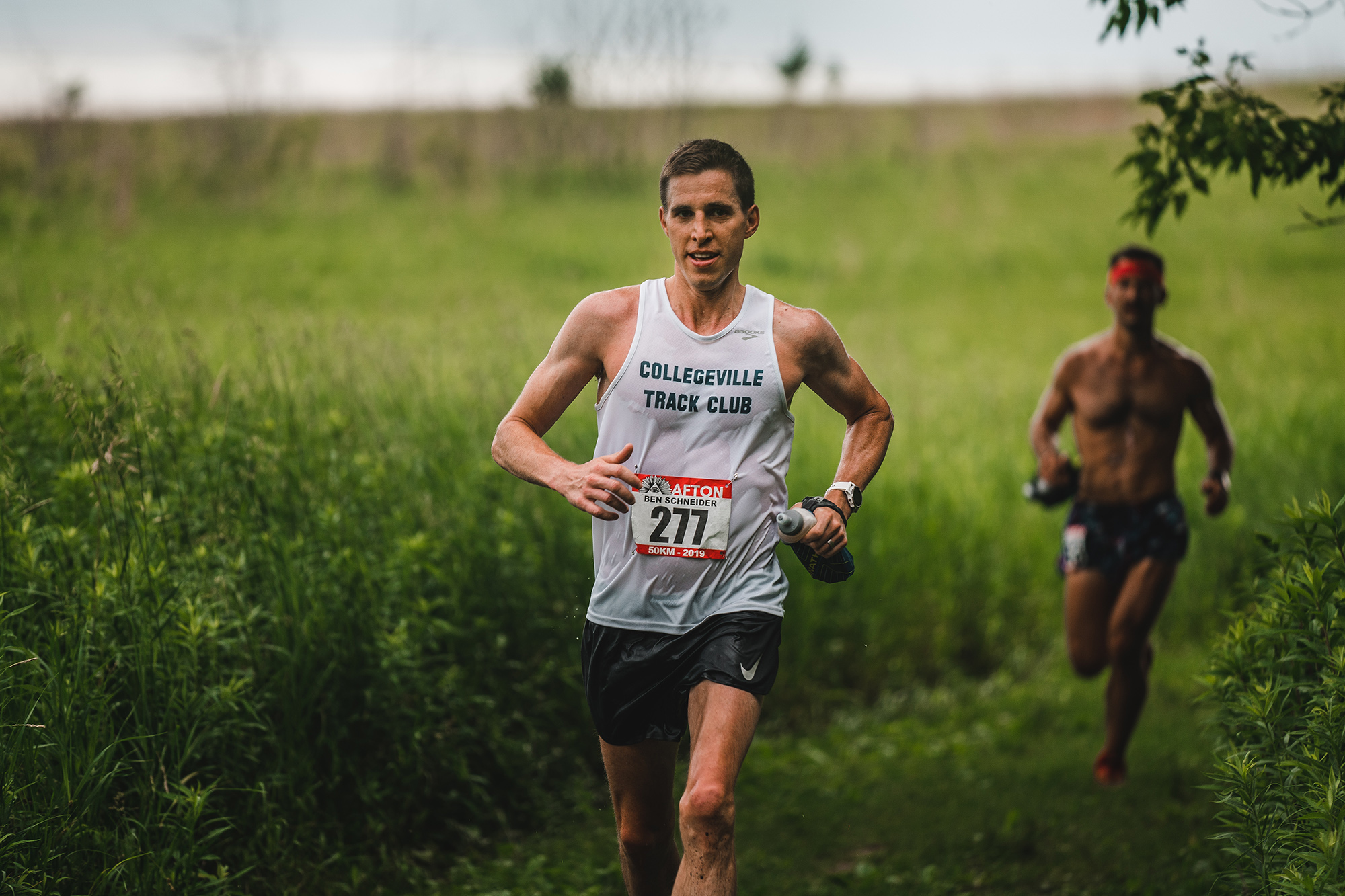 KL: Hi Ben. Congrats on your win at Afton (Ben won the 50k in 3:51:14). Can you tell us a little about yourself?
BS: I'm originally from Illinois, but I moved to Minnesota a little over 11 years ago and have been living in Minneapolis with my wife Candice for 10 years. I'm an engineer at Boston Scientific working mainly in hardware design for implantable pacemakers and defibrillators. Besides running, I enjoy spending time with Candice and our pup Kaiser, traveling, stand-up paddle boarding, and cheering for the Packers & Loons.
KL: You're known as a road marathoner (2:24 pr). Forgive the obvious question, but what's different about Afton and did you train any differently?
BS: Yep, my PR is just under 2:24 (2:23:56), and yes, Afton is a different beast than a road marathon. Of course, endurance is key for both, but the trail requires a lot more agility than the road. So, I tried to get out to Afton one day each weekend to practice running on the trails while putting in some decent mileage during the week. I'm still a terrible downhill trail runner, but I'd like to think I improved trail skills slightly by the time the race rolled around.
KL: What were your plans or goals for the race and how did the race play out for you?
BS: The main plan was to just get through it. Having run the 25k loop a number of times it was pretty clear to me that running it twice was not a particularly good idea. And maybe even less so for a guy that had never run a 50k before. I figured that I would try to keep the first half pretty comfortable and then see what I had left for the second loop. The leaders got out pretty quick, so I was in seventh or eighth place a few miles into the race, but I started to pick people off around mile 8 or 9 and I was in third by the time I started the second loop. I caught the second place guy around mile 18 and the leader right before heading up the Meat Grinder for the second time. At that point I just tried to keep the legs moving to the finish.
KL: What best prepared you for such a race?
BS: I had a really solid block of training this spring leading up to Boston. I was putting around 120 miles per week with some solid tempos and back to back long runs. I thought that I was in shape to go after my PR (sadly, I was not). I took some downtime after Boston and then tried to cram in some training for Afton, but due to some Achilles issues, I wasn't really able to get any quality work in the weeks leading up to the race. So really, I think that I parlayed my Boston fitness into a good Afton race.
KL: Did you have any low points during the race? If so, what helped you through them?
BS: Coming through the first prairie section on the second loop I realized that I had not been hydrating adequately. I think this was pretty much the first time I'd run with a hand-held and I underestimated how much I needed to drink. I usually don't run with water so that the water on race day makes the race feel a little easier, but of course in retrospect, this was the longest time/distance I had raced and it was a rather humid day. Fortunately, the volunteers at the aid stations were wonderful, and between a ton of Heed and some cooling sponges, I was feeling better for the final miles.
KL: What's something non-running that helped you at Afton?
BS: Due to chronic Achilles tendon issues over the past four years, I've put in more than my fair share of time on the stairclimber machine at work. As I've been able to come back to running post PRP injections to help fix the Achilles, I've continued to use the stairclimber for cross training and I think that activity lends itself well to trail running.
KL: Your wife is also known as a super-fast marathoner and you guys have stacked some major win streaks at Paavo Nurmi Marathon. What does that bring to your relationship? Any tips for running couples?
BS: Yep, she's a super speedy 3:05 marathoner. I think both of us being competitive runners brings a lot to our relationship. We understand the time commitment required to get the best out of ourselves. And let's face it, runners are weird, so it's good to have someone that understands that weird. There's never any question of why you had to run around the block to get that even mileage number or why it's okay to talk about your current toenail status. Also, since it's our common interest, it's been a focal point of planning trips. That all being said, it's good to remind running couples that so many things can go wrong in a marathon; it's likely that there may never be a race that goes well for both parties. You just have to learn to celebrate the day of the party that achieved goals while quickly moving on from the disappointment of the missed goals.
KL: Bonus question: Please make your own question (and answer) that reveals something you think we should know about.
BS: How did you meet your wife? At the Flying Monkey Marathon in Nashville, TN. She tells me that it didn't hurt that I won it.
KL: Thanks again and congrats on your race.