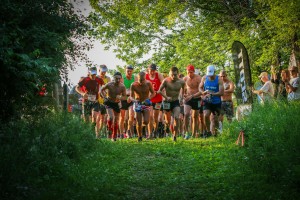 Ultrarunners are like cockroaches.
In the dead of winter, on the Canadian border, they'll lug a sled for 135 miles. Come July, when the only thing thicker than the wet blanket of humidity are the clouds of black flies swarming the itchy woodland overgrowth, they'll propel themselves in a relative sprint on the undulating hills and soul-crushing flats of a state park on the St. Croix.
You just can't kill them. No course can do it. Not yet.
Hot 'nough fer ya?
If every year in all of history is any indication, the main event at this year's Afton Trail Run – its 23rd edition – will be a slugfest between runner and the interminable bog of a Minnesota summer. After winning the 50K – and setting a course record – in the heat in 2013, Chris Lundstrom reported that he simply didn't feel the same the rest of the summer. Who will be hobbled in the long term this go-around? Good luck on that second lap, 50Kers.
Debilitating conditions and course aside, there are plenty of other interesting things happening at this year's race. I'll start with a quick look at the elite races, just to make half of you angry. But really – it's the largest field in the race's history, and it should be a burner.
USATF-Minnesota
BUT FIRST: both the 25K and 50K races will technically be state championships this year, having been named USA Track & Field Minnesota's state trail 25K and 50K championship, respectively. If you're registered with USATF, and Minnesotan, you're eligible. But it also means you could win and later be disqualified for no reason at all if USATF cites imaginary video evidence against you*. (Update: we've learned protest-lodging Nike Oregon Project head coach Alberto Salazar and his tube of Testoboost will be at the Olympic Trials in Eugene, Oregon, so there's likely no cause for concern here.)
*My usual vitriol toward USATF's national organization actually doesn't apply to our state board, who consist of neighbors and friends who do a great job bringing the sport of running to as many people as possible. Cheers to them, and they're really good sports whenever I go on a tirade.
50K Preview
Surprise, Chris Lundstrom (Minneapolis, three-time winner) is signed up. I believe he has never run this course slower than 3:48, and seems to be incredibly consistent, regardless of conditions – unless he's pushed, in which case he runs faster. And he might very well be pushed this year by fellow Team USA Minnesota alum Kurt Keiser (Jordan), who is fresh off breaking his own course record at the Zumbro 50 Mile in April. A dark horse here could be Tim Hardy (North Makato), a quick marathoner who broke the course record at the Chester Woods 50K earlier this year.
By the way, "Lundo" is 40 now, and the Master's course record is 4:03:47, set in 2005 by Jim Ramacier. Just saying.
The women's race might be more cut-and-dry: Chippewa 50K champ Christine Loza (Woodbury) looks to be a leg up on the competition, at least according to the (not-very scientific) ultrasignup rankings. She won the 25K here last year in 2:03:45 and has been training on the course, and it's rumored she trains with ultra Maven John Horns; while Sarah Bundy (Fargo; eighth at last year's Surf the Murph 50K) or Lisa Burger (St. Louis Park; second in April's Zumbro 100-mile) could step up, as long as Loza's car starts that morning, she will be tough to beat. Horns spews so much wisdom on an average training run that some of it will inevitably stick and be put to use.
25K Preview
As with Superior, the 25K could actually be the more exciting – and certainly more competitive – race, as the influx of quicker post-collegiate and road-running types looking to mix it up on the dirt continues. Basically, both races are loaded.
Ben Kampf (Minneapolis) has the Afton 25K's most storied past, with four titles, but it's rumored he's chickening out this year to run with one of the top women. We anticipate he will grow flustered at reading this, his face turning red as he types and re-types a slurry of insults to me via text message, only to delete them in exasperation, throwing his hands up in despair, taking refuge in the cuddling throes of his two dogs while tracking his wife's race at the Olympic Trials, stewing over a LaCroix in his bathrobe and slippers, wringing his hands, teeth grinding, and a low, persistent hum emanating from the area surrounding his larger-than-average head.
But let's start with the women. Emma Lee (St. Paul) is the three-time winner and course record holder, in 1:50:54; on her heels will be Team USA Minnesota alum and Superior 25K winner Emily Gordon (St. Paul), who is training under 2x USA Track & Field Trail 10K champ David Roche, and who has been training on trails a lot with her boyfriend, Ryan Tholen (who will contend in the men's race – more in a second). Kelly Boler (nee Brinkman, Eagan) has a 1:11:32 half-marathon under her belt and recently won an Endless Summer trail race outright; Jilian Tholen (Minneapolis) has won two ESTRS races; Caitlin Gregg will be returning to trail racing after a long layaway, but with a 1:59:24 trail 25K to her name (at the 2013 Sun Mountain races in Washington), she could contend as well as anyone.
So, the boys had better watch their back, or the overall title could well go to one of the ladies I've just named. But the men's field is loaded in its own right: the aforementioned Tholen (St. Paul) brought his speed to some shorter trail races last year, but proved his range in winning the rocky, technical Wild Duluth 50K in October; Adam Doe (Maple Grove) won the Superior 25K in May and posted a 3:49:56 at the Chippewa 50K in April; Jake Hegge (Onalaska, Wisconsin) is better known here for his ultra prowess, but has also run some shorter races and once ran for a little NCAA cross-country program at UW-La Crosse.
Other Notables
-Tim Potter has the most 50K finishes, at 14, but Herb Byun (aged 71!) and Joseph Galloway (59, meh) are looking to reach that milestone this year.
-Along those lines, Wally Goettl (70) and Les Martisko (also 72) are going for their 13th finish; according to RD John Storkamp, Martisko has run about 380 marathons and ultras. He was unsure of the exact number but also appeared not to be exaggerating.
-Martisko and Byun are the oldest entrants this year, to boot.
-Young guns: Eric Burell and Alex Kasparek, both 19, are the youngest entrants in the 50K. Although for reference, Kevin Chem remains the youngest finisher ever at 15.
-In the 25K: Kathy Schmidt, 71, is the oldest entrant this year; the most-senior finishers ever were Betty Frankum and Garland Smith, both 73 at the time.
-At 12 years old, David Engelsrud is the youngest registered runner. (The youngest ever was Gwen Schroder, 11.)
-At 26, Bennett Henderson is already going for his 10th 25K finish. He has run every year since he was 17 and has apparently not bowed to peer pressure to step up to the 50K, if that's a thing.
Social Media
The Mill City crew's real-time documenting of the spring Superior races was subpar, at least for them. Can they step up the selfie game at Afton? The cell reception is better, so, probably.
What's all this, then?
Stop reading this and go run already. -AK