by John Storkamp, RD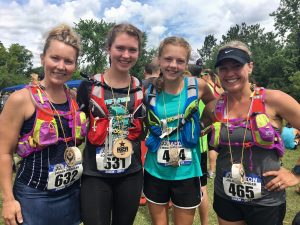 In 1994, 53 runners finished the inaugural Afton Trail Run 50K while 82 finished the 25K race for a total of 135 finishers.  Fast forward 24 years, a field limit of 900 runners and yet another Minnesota trail / ultra race that filled to capacity. To put this growth into perspective, with around 160 volunteers this year, we had more volunteers help with this year's race than we had finishers of both distances that very first year of the event.  While field size is probably one of the lesser metrics useful in gauging the health, success or quality of an event (and as we all know, large numbers can sometimes be a detractor) it is a metric nonetheless and is telling about the state of trail and ultrarunning in Minnesota – it is strong, vibrant and continues to grow.  If the Afton Trail Run qualifies as and is representative of one of Minnesota's mega trail / ultra races then I guess we can feel pretty good about it and the continued direction of the sport in our region.  As we evaluate Afton against other more meaningful metrics and gauge the pulse of our runners, larger fields have had little effect on what has always made our annual 4th of July tradition great – a tight-knit low-key race built around a supportive community, with an abundance of thoughtful and experienced volunteers.  In fact, based on these factors, the Afton Trail Run is likely better, stronger and healthier than ever and we feel more than ever, that we are amongst "our people" albeit a lot more of them!  This year's race, like so many other Minnesota trail and ultra races had wide-reaching representation with runners hailing from 26 states and three countries, our extended family continues to grow not only locally but with the many out of state runners who view Minnesota as home-base for their trail and ultra racing.  Our field this year also consisted of runners ranging in age from 10 years old to 73 years young.
50KM
Registered: 333, Started: 298 (89%), DNFs 21 (7%),  Finishers: 277 (93%)
Any ultra race with history and numbers will by default have its own historical figures putting up big numbers and this year's race had no shortage of veteran runners achieving significant milestones with several runners in the 50K finishing up their 10th, 12th or 15th Afton 50Ks with an impressive four runners age 70 and older finishing the 50K.  This included Les Martisko (73) who in his 14th Afton 50K finish closes in on his 400th marathon / ultra finish – also laying similar claim and in striking distance of this same milestone of 400 is 12 time 50K finisher Mark Stodghill (68). As for the younger contingent of the field, pushing the pace more than age, this year's race for the win came down to two runners, the wily veteran and masters racer, Kurt Keiser (he holds the fourth fastest time ever run on the course which he ran in 2016) who on this particular day, was no match for the younger and up and coming Adam Doe who ran a patient and tactical race which was emblematic of a more experienced runner – Doe took the lead late and eventually the win in 3:54:35, now the 11 fastest time run on the modern day Afton course.  On the women's side, it was an example of long-term consistency paying off, Jayna Tomalty had run Afton before and had run it well, she had also run well at many other local trail and ultra races, frequently finishing in the top 5. With those past performances and continuing to build with a solid bout of Spring training, she fulfilled early predictions of being this year's winner, this is not to say that it came easy as the lead did change hands a time or two with Jayna finishing in 4:56:11 while second place Rebekah Foelker finished in a close 2nd in 4:57:03.
25KM
Registered: 569, Started: 505 (85%), DNFs: 12 (2%), Finishers: 493 (98%)
One of the greatest joys of being involved with a race year after year on an intimate level is that we get to know people… Anna French started running with us in 2012 when she was just 15 years old… on this, her 5th running of the race at the age of 20 she went and won the Afton 25K running the 5th fastest time ever on the modern day course, a time of 1:53:35.  Icing on the cake… she bested some other very serious and capable competitors including Jillan Tholen who placed second in 1:55:10 and for further evidence of strength-of-field, Jillian owns the 4th fastest time ever run on the course from her 2016 performance.  On the men's side technical trail specialist Ben Cogger of Duluth Minnesota beat out an impressive field of runners, taking the win in 1:41:24 – just over a minute ahead Davin Grapentine who finished in 1:43:36.  Jeff Metzdorff rounded out the top three in 1:44:32.  While there were no shortage of other notable performances on the day, one that really sticks out is Jan Guenther winning for winning the Women's Grand Masters division (50+ year old runners) for her 6th straight year in a row and increasing her record to now owning the six fastest Women's Grand Masters times ever run at the race.
In final reflection on this years race some may remember the larger field and others may remember the many notable performances but one thing that every single runner and volunteer will remember is how they felt being with "their people" at Minnesota's annual Summer trail and ultra picnic – sharing it with friends, new and old, young and old, from near and far.